News & Press
Green Hills Software Enhances µ-velOSity Real-Time Operating System
Ultra-small µ-velOSity 2.6.2 Adds Features and Speed Optimizations for More Microcontrollers
---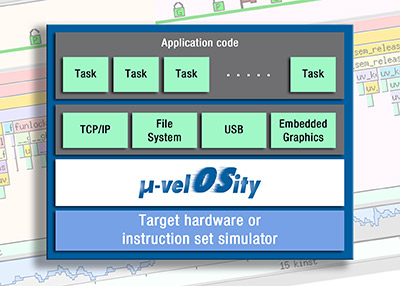 SANTA CLARA, CA — July 21, 2015 — Embedded Systems Conference, Booth B — Green Hills Software, the largest independent software vendor for the Internet of Things, announced a major release of its ultra-small footprint µ-velOSity™ real-time operating system (RTOS) with new support for the latest processor architectures, improved performance optimizations and expanded security and safety features. When combined with versatile middleware products from Green Hills and its technology partners, µ-velOSity and the MULTI® integrated development environment offer an ultra-small and fast software platform to quickly develop and efficiently run applications on resource constrained devices such as IoT wearables, home automation and connected industrial sensors.
Today's battery-powered or deeply embedded devices are being tasked to run increasingly complex software applications on microcontrollers with limited memory and clock speeds, with secure connectivity to other devices and the cloud. In addition, shrinking development schedules and growing code bases demand high quality and easy-to-use development tools that shorten the software development cycle and increase software code quality.
µ-velOSity 2.6.2 brings more features and performance optimizations to more processors to meet these challenges.
New processor architectures added to the extensive list of processor architectures supported by µ-velOSity include new family members from ARM® Cortex-M®, ARM Cortex-R and Power Architecture® e200 architectures.
Customers are now securely communicating over untrusted networks with µ-velOSity and secure networking protocols SSL/TSL and SSH from Green Hills. Also available from Green Hills is the Embedded Crypto Toolkit– a comprehensive suite of FIPS 140-2 compliant cryptographic toolkits for developing high assurance data protection on microcontrollers.
New performance optimizations reduce interrupt service routine and context switching execution times, while hardware floating-point support for multi-tasking has been expanded.
Enhanced call stack utilities enable the developer to analyze and predict stack usage to avoid overflows – a safety and security hazard – especially important on memory-constrained microcontrollers.
Automotive customers are utilizing new CAN bus support with µ-velOSity, which is another proven-in-use connectivity/communication option including USB, TCP/IP, SD Card, Bluetooth® and flash file systems.
Small & Fast
Memory, processing cycles and power are at a premium in IoT and deeply embedded systems. µ-velOSity was designed to use the smallest number of CPU clock cycles and memory, requiring only 1.6 KB of ROM. This alleviates the need for slower and expensive off-chip memory, enabling "instant-on" booting, faster execution speed and more memory for applications.
Easy to Use and Customize
The µ-velOSity API is simple, intuitive and easy to use. Complete source code for the RTOS and select middleware is included, making it easy for developers to understand and configure µ-velOSity to meet their specific requirements while only including the necessary RTOS services. The Project Wizard and application examples build a new application in minutes.
Faster Development & Superior Quality
Integrated middleware saves significant development time when adding communication, connectivity and graphics capability. Meanwhile, the comprehensive MULTI suite of integrated development tools for µ-velOSity enables developers to bring to market more quickly a higher performing and more reliable product. Key feature advantages include kernel aware debugging, record-setting C/C++ compilers and integrated code quality tools providing developers control and visibility into stack performance, run-time errors and MISRA-C adherence.
Availability
µ-velOSity 2.6.2 is available today.
About Green Hills Software
Founded in 1982, Green Hills Software is the largest independent software vendor for the Internet of Things. In 2008, the Green Hills INTEGRITY-178 RTOS was the first and only operating system to be certified by NIAP (National Information Assurance Partnership comprised of NSA & NIST) to EAL 6+, High Robustness, the highest level of security ever achieved for any software product. Our open architecture integrated development solutions address deeply embedded, absolute security and high-reliability applications for the military/avionics, medical, industrial, automotive, networking, consumer and other markets that demand industry-certified solutions. Green Hills Software is headquartered in Santa Barbara, CA, with European headquarters in the United Kingdom. Visit Green Hills Software at www.ghs.com.
North American Sales Contact:
Green Hills Software
30 West Sola Street,
Santa Barbara, CA 93101
Tel: 805-965-6044
Fax: 805-965-6343
Website: www.ghs.com
Email: info@ghs.com

Media Contact:
Green Hills Software
Barbel French
Tel: 805-965-6044
Email: bfrench@ghs.com
International Sales Contact:
Green Hills Software Ltd
Fleming Business Centre
Leigh Road, Eastleigh
Hampshire SO50 9PD
UNITED KINGDOM
Tel: +44 (0)2380 649660
Fax: +44 (0)2380 649661
Email: mktg-europe@ghs.com