News & Press
Green Hills Software Announces Industry-leading Support for Groundbreaking S32V200 Vision Processor from Freescale
64-bit ADAS Platform Brings Safety, Security and Performance Enabling Co-piloted Cars
---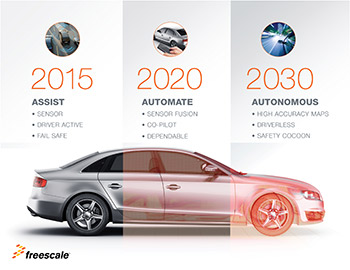 SANTA BARBARA, CA — June 19, 2015 — Green Hills Software, the largest independent software vendor for the Internet of Things, today announced its industry-leading Platform for ADAS, including the INTEGRITY® real-time operating system (RTOS) and 64-bit MULTI® development tools, for the Freescale® S32V200 automotive vision processor featuring quad ARM® Cortex®-A53 cores with dedicated vision processors cores. For the first time, carmakers and their tier-1 suppliers can develop advanced vision and fusion applications on powerful 64-bit cores and confidently deploy safe and secure ADAS features, such as pedestrian detection, traffic sign recognition and surround view object avoidance with the world's most trusted automotive software execution environment.
"The combination of Freescale's S32V processor running the Green Hills INTEGRITY RTOS is an ideal solution for vision applications with multiple cameras and/or sensors," said Davide Santo, Global ADAS Microcontroller Product Line Manager at Freescale. "The collaboration between Freescale and Green Hills on the S32V over the past 2 years has produced a trusted execution platform for customers to confidently take their advanced driver systems beyond today's 'assist' capabilities into the exciting 'co-pilot' era."
In their competitive quest for driver convenience and decreased roadway fatalities, carmakers today are incorporating automotive ADAS systems based on limited situational awareness. The next step is to add a co-pilot function for shared control with the driver during critical situations. These sophisticated and computation-intensive next-generations ADAS systems must simultaneously harness new powerful and complex processors, such as the Freescale S32V while controlling millions of lines of code that fuse camera, radar, ultrasound and radio signals to then understand and predict pedestrian movement, other cars, traffic lanes, speed limit signs and more…requiring guaranteed levels of the highest functional safety and cyber security.
The Green Hills platform for ADAS running on the Freescale S32V is the ideal development and deployment platform that uniquely meets these challenges of performance, safety, security and scalability.
INTEGRITY RTOS the most trusted and certified separation architecture for safety and security applications
Hardware accelerated image and fusion processing from CogniVue's dual APEX-642 image processing cores, Image Signal Processor (ISP), and OpenGL 3D on the Graphics Processing Unit (GPU)
EEMBC® record-setting optimizing C/C++ compilers for quad Cortex-A53 cores, NEON signal processing extensions and additional integrated Cortex-M4 MCU
INTEGRITY Multivisor™ secure virtualization technology option
Green Hills Software's FIPS 140-2 and NSA Suite B cryptographic library taking advantage of the S32V security encryption units
Clear path to complete ISO 26262 certification services and lifecycle support for both development tools and RTOS
Development tools for deep visibility into code behavior — TimeMachine™ trace debugging, MULTI run-time error detection, MISRA-C checking and DoubleCheck™ static source code analysis
Availability
The Green Hills Software Platform for ADAS for S32V200 is available to qualified customers today with scheduled support plans continuing through 2015.
About Green Hills Software
Founded in 1982, Green Hills Software is the largest independent software vendor for the Internet of Things. In 2008, the Green Hills INTEGRITY-178 RTOS was the first and only operating system to be certified by NIAP (National Information Assurance Partnership comprised of NSA & NIST) to EAL 6+, High Robustness, the highest level of security ever achieved for any software product. Our open architecture integrated development solutions address deeply embedded, absolute security and high-reliability applications for the military/avionics, medical, industrial, automotive, networking, consumer and other markets that demand industry-certified solutions. Green Hills Software is headquartered in Santa Barbara, CA, with European headquarters in the United Kingdom. Visit Green Hills Software at www.ghs.com.
North American Sales Contact:
Green Hills Software
30 West Sola Street,
Santa Barbara, CA 93101
Tel: 805-965-6044
Fax: 805-965-6343
Website: www.ghs.com
Email: info@ghs.com

Media Contact:
Green Hills Software
Barbel French
Tel: 805-965-6044
Email: bfrench@ghs.com
International Sales Contact:
Green Hills Software Ltd
Fleming Business Centre
Leigh Road, Eastleigh
Hampshire SO50 9PD
UNITED KINGDOM
Tel: +44 (0)2380 649660
Fax: +44 (0)2380 649661
Email: mktg-europe@ghs.com