News & Press
Green Hills Software Extends INTEGRITY RTOS and Safety Tools Support for Hybrid Instrument Clusters
Market-leading Safety RTOS, Development Tools and Consulting Bring Scalable Solution to New Freescale MAC57D5xx Automotive Processor
---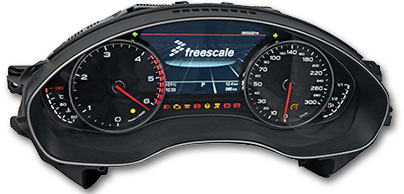 DETROIT, MI — October 21, 2014 — SAE Convergence, Booth 327 — Green Hills Software, the largest independent software vendor for the Internet of Things (IoT), today announced its broad product and services support for the Freescale® Semiconductor MAC57D5xx processor targeting automotive instrument cluster manufacturers. The Green Hills offering features the INTEGRITY® safety RTOS, optimized OpenVG support with a rich ecosystem of HMI graphics packages, safety-certified development tools, and services for ISO 26262 ASIL product design and certification. Green Hills solutions are quickly becoming the de facto software foundation used by global Tier 1 manufacturers worldwide to efficiently develop and deliver safety-certified high-performance instrument clusters on the road today.
"The Freescale MAC57D5xx MCU architecture balances the safety and security requirements of an instrument cluster with the connectivity IoT needs of next-generation automotive clusters," said Ray Cornyn, vice president of Freescale Automotive Engineering. "The Green Hills INTEGRITY RTOS, MULTI® tools, graphics support and expert functional safety services complement this architecture delivering the best functional safety solution to our customers."
Freescale's MAC57D5xx processor family targets graphics-rich mid-range instrument clusters that require digital and/or analog human interfaces such as gauges, dials and screens. Its flexible multicore architecture utilizes ARM® Cortex®-A and Cortex®-M cores and features the Vivante 2D GPU (OpenVG 1.1), head up display (HUD) warping engine and an integrated stepper motor with powerful I/O processor.
Green Hills Software's comprehensive solution addresses the rigorous cost, performance, safety and quality requirements demanded by automotive manufacturers. Support for Freescale MAC57D5xx MCUs includes the following major components:
INTEGRITY separation kernel for applications demanding safety, reliability and security
Proven ecosystem of graphics partners for HMI displays coupled with GPU-accelerated OpenVG 2D graphics
MULTI integrated development environment featuring multicore debugger, profiler and many other integrated time-saving tools
Software and services compliant to the highest levels of automotive and industrial safety standards including ISO 26262, IEC 61508 and EN 50128
High-performance EEMBC® record-setting C/C++ compilers and complete tool chain that leverage the Neon media processing engine and floating point units
Integrated code quality tools including MISRA C/C++ and DoubleCheck™ static analyzer
Multicore run-control, board bring-up, low-level debugging and real-time trace debugging with the Green HiIls Probe and SuperTrace™ Probe utilizing industry-standard CoreSight™ from ARM Ltd.
Frozen Branch Support for maintaining a private and unique release branch of Green Hills products for 10 years or more
"Green Hills is pleased to be adding its comprehensive safety solution for Freescale's latest advancements in automotive cluster processor offerings, the MAC57D5xx MCU," said Dan Mender, vice-president of business development at Green Hills Software. "This new Freescale MCU is a perfect complement to the already successful use and deployment of Green Hills on the Freescale i.MX6 series applications processors family, addressing the growing mid-range cluster market."
Availability
Green Hills products and services for MAC57D5xx MCUs are in use by customers today.
About Green Hills Software
Founded in 1982, Green Hills Software is the largest independent software vendor for the Internet of Things. In 2008, the Green Hills INTEGRITY-178 RTOS was the first and only operating system to be certified by NIAP (National Information Assurance Partnership comprised of NSA & NIST) to EAL 6+, High Robustness, the highest level of security ever achieved for any software product. Our open architecture integrated development solutions address deeply embedded, absolute security and high-reliability applications for the military/avionics, medical, industrial, automotive, networking, consumer and other markets that demand industry-certified solutions. Green Hills Software is headquartered in Santa Barbara, CA, with European headquarters in the United Kingdom. Visit Green Hills Software at www.ghs.com.
North American Sales Contact:
Green Hills Software
30 West Sola Street,
Santa Barbara, CA 93101
Tel: 805-965-6044
Fax: 805-965-6343
Website: www.ghs.com
Email: info@ghs.com
International Sales Contact:
Green Hills Software Ltd
Fleming Business Centre
Leigh Road
Eastleigh SO50 9PD
UNITED KINGDOM
Tel: +44 (0)2380 649660
Fax: +44 (0)2380 649661
Email: mktg-europe@ghs.com
Media Contact:
Green Hills Software
Barbel French
Tel: 805-965-6044
Email: bfrench@ghs.com