News & Press
Green Hills Software Ships World's Fastest Trace Probe with Largest Storage Capacity
SuperTrace Probe v3 Resets Standards for All Trace Probes
---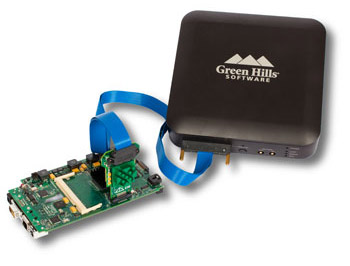 SANTA CLARA, CA — November 10, 2010 — ARM Technology Conference, Booth #307 — Green Hills Software, Inc., the largest independent vendor of embedded software solutions, today announced SuperTrace™ Probe v3, the fastest trace probe with the largest storage capacity ever built. Starting with 4 gigabytes of trace, expandable to higher capacities, and a sustained JTAG download speed of over 10 megabytes per second, SuperTrace Probe v3 once again resets the standards for all trace probes. SuperTrace™ Probe v3 is tightly integrated with Green Hills Software's award-winning, patented MULTI® TimeMachine™ debugging suite, allowing developers to fix bugs faster, optimize with ease, and test with confidence with the most advanced trace tools available.
"SuperTrace Probe v3 is the successor to the original SuperTrace Probe, which really introduced the gigabyte-class trace probe to the industry" explained David Kleidermacher, chief technology officer, Green Hills Software. "When we talked to our customers about what they wanted from our next trace probe, they told us that they loved our trace probe, but just wanted more of everything – more storage, more speed, more flexibility – so we created SuperTrace Probe v3. In addition to its greater performance envelope, we've also made it easier to use and easier to connect to target boards. Many of our customers have complex prototype boards, and tight delivery schedules. SuperTrace Probe v3 helps them meet their most demanding deadlines."

Fastest in the world
With top JTAG download speeds in excess of 10 MB per second, and Gigabit Ethernet and USB 2.0 Hi-Speed interfaces, SuperTrace Probe v3 is the fastest trace probe available. And with trace storage write speeds of 4 GB per second, SuperTrace Probe v3 is ready for current and future trace port standards.
Large trace capacity
SuperTrace Probe v3 ships with 4 GB of trace storage in its standard configuration. Significantly higher capacities are available. With 4 GB, SuperTrace Probe v3 can record long histories, making it easier than ever to catch the bugs. It is able to observe significant events, such as a boot from reset of an RTOS and task startup. Bugs which were impractical to trace are now trivially found.
User-friendly and compliant with the latest standards
SuperTrace Probe v3 is certified to FCC class A and EN 61326-1:2006, and is RoHS-compliant. Its custom-machined anodized, non-conductive aluminum enclosure was designed to be quiet and unobtrusive. And its intelligent cabling system automatically validates itself every time it's plugged in to give developers maximum reliability and confidence.
Designed with and for the MULTI TimeMachine Debugging Suite
SuperTrace Probe v3 is custom-designed for the most advanced trace toolset in the world, the MULTI TimeMachine debugging suite. The TimeMachine debugging suite features patented technologies that help developers fix bugs faster, optimize with ease, and test with confidence. It provides innovative functions that enable developers to step and run forward and backward through their code, so they can more readily explore processor execution and, as a result, find and fix bugs faster. In addition, the TimeMachine debugging suite was used extensively to develop, optimize, and test the SuperTrace Probe v3 itself, proving again that Green Hills tools are responsible for the world's highest performance products.

Built with INTEGRITY
SuperTrace Probe v3 is powered by Green Hills Software's INTEGRITY® RTOS, the leading market share high-reliability real-time operating system. The partitioning architecture of the INTEGRITY RTOS and its ultra-fast response time enabled the creation of a probe that is modular, reliable, and easy to use while attaining performance levels that have never before been achieved.
SuperTrace Probe v3 is available now.
About Green Hills Software

Founded in 1982, Green Hills Software, Inc. is the largest independent vendor of embedded development solutions. In 2008, the Green Hills INTEGRITY-178B RTOS was the first and only operating system to be certified by NIAP (National Information Assurance Partnership comprised of NSA & NIST) to EAL6+, High Robustness, the highest Common Criteria security level ever achieved for a software product. Our open architecture integrated development solutions address deeply embedded, absolute security and high-reliability applications for the military/avionics, medical, industrial, automotive, networking, consumer and other markets that demand industry-certified solutions. Green Hills Software is headquartered in Santa Barbara, CA, with European headquarters in the United Kingdom. Visit Green Hills Software at www.ghs.com.

Green Hills, the Green Hills logo, MULTI, INTEGRITY, TimeMachine and SuperTrace are trademarks or registered trademarks of Green Hills Software, Inc. in the U.S. and/or internationally. All other trademarks are the property of their respective owners.

North American Sales Contact:
Green Hills Software, Inc.
30 West Sola Street,
Santa Barbara, CA 93101,
Tel: 805-965-6044
Fax: 805-965-6343
Website: www.ghs.com
Email: sales@ghs.com

International Sales Contact:
Green Hills Software Ltd
Fleming Business Centre
Leigh Road
Eastleigh
Hampshire SO50 9PD
UNITED KINGDOM
Tel: +44 (0)2380 649660
Fax: +44 (0)2380 649661
Email: mktg-europe@ghs.com
Media Contacts:
Green Hills Software, Inc.
Barbel French
Tel: 805-965-6044
Email: bfrench@ghs.com