Third Party Partners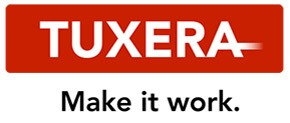 Partner name
Tuxera Inc.
Product or Product Family Name
Tuxera Flash File System
Tuxera exFAT
Tuxera NTFS
Tuxera FAT
Product Type
Storage Software (File-System) for Data Management
Product Summary
Tuxera storage software includes automotive-grade safety features such as encryption and fail-safety and can be easily integrated into all parts of the automotive architecture, including infotainment, telematics, event recorder, driver assistance, dashcam, and in-car Digital Video Recording (DVR).
Product Description
Internal Storage
Tuxera Flash File System – the world's most flash-friendly storage management software. Built by our world-leading team of file system software engineers, Tuxera Flash File System is fully customized to work with the flash memory hardware it's coupled with – whether it's UFS, eMMC, MMC, SSD, or SD. This ensures the longest flash memory lifetime, reduces data fragmentation, and maintains highest system performance. It is the only flash-friendly file system software developed in cooperation with a number of key industry partners, allowing us to deliver advanced software optimization for flash memory devices.
External Storage
Tuxera exFAT, Tuxera FAT, and Tuxera NTFS file systems are the industry standard In-vehicle Infotainment (IVI) systems, and already at work bringing full interoperability with memory cards and USB storage. They make IVI systems faster, more responsive, and more durable.
About Tuxera
Tuxera is the leading provider of storage and networking technologies. From the latest flagship smartphones to cars, cameras, routers, and drones – Tuxera's software makes file transfers fast and content easily accessible. The company is an active member of multiple standard organizations, including JEDEC, AGL, SD Association, UFS Association, and many others. Founded in 2008, Tuxera's headquarters are located in Finland, with regional offices in China, India, Germany, South Korea, Japan, Taiwan, and the US.
Processors Supported
ARM, ARM64
Intel x86/x86_64 or compatible
MIPS
Power Architecture
and others
Supported Green Hills Products
Headquarters
Tuxera, Inc.
Westendintie 1 02160
Espoo, Finland
tel: +358 20 764 1720
fax: +358 98 565 7002
email: salesattuxera.com
www.tuxera.com