Third Party Partners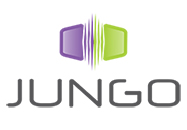 Jungo Ltd., an NDS Group company, is a provider of connectivity and multimedia software solutions. Jungo's products enable semiconductor companies, device manufacturers and OEMs (original equipment manufacturers) to easily develop products that intelligently connect with any portable device over various protocols for any application. Jungo solutions have been deployed in global markets throughout various industries including the automotive industry, mobile communications, digital TV, point-of-sale, medical equipment and defense industries.
Product Type
Connectivity software
Product or Product Family Name
Automotive Connectivity Middleware
Product Summary
Enables in-car device connectivity
Product Description
Provides connectivity middleware, phone and media management subsystem enabling in-car infotainment system manufacturers to integrate end-to-end media access, control, and streaming infrastructure, phone and internet connectivity into their designs.
The Jungo Automotive Connectivity Middleware features:
Connectivity to any device: iPhone, iPod, iPad, Android devices, MTP, Media Players, Smartphones, Thumb drives
Connectivity over any protocol: USB, Bluetooth, Wi-Fi, 3G, 4G, iPod Out, Terminal Mode
Connectivity with any application: media/phone/network management, external applications such as Pandora, Sticher, etc.
Rich applications framework:
Media Index, control, sync and stream audio, video and images
Phone management: Placing calls, handsfree, phonebook
3G and 4G internet access software
Navigation software integration layers
OS support: Linux, Android, WinCE, QNX, uItron support
CPU support: Freescale, Renesas, Intel support
Complete reference design with reference GUI
Supported Green Hills Products
Headquarters
Jungo Ltd.
3031 Tisch Way, Suite 808
San Jose, CA 95128
USA
R&D Center:
1 Hamachshev Street
PO Box 8493
Netanya 42504
ISRAEL
Web: www.jungo.com