News & Press
Green Hills Software's INTEGRITY-based Multivisor Delivers Embedded Industry's First 64-bit Secure Virtualization Solution
New 64-bit Support for ARM®v8-A and Intel Architecture Builds on a Decade-Plus of Deploying Cross-Industry Safe and Secure Real-Time Virtualization
---

LAS VEGAS, NV — January 5, 2016 — Consumer Electronics Show 2016 — Green Hills Software, the worldwide leader in high assurance operating systems, today announced the availability of its safe and secure INTEGRITY® Multivisor™ virtualization solution for 64-bit ARM® and 64-bit Intel Architectures. Based on the INTEGRITY real-time operating system, INTEGRITY Multivisor delivers a real-time, fast-boot platform for safely and securely combining consumer operating systems such as Linux, QNX, Android or Windows with safety- and security-critical software on next-generation 64-bit multicore processors. As a result, device manufacturers can combine separate system components into a single cost- and size-reduced platform while still being able to satisfy rigorous market-specific requirements for safety, security and real-time performance.
Why Virtualization for Embedded Devices?
Green Hills Software's secure, deterministic high-performance virtualization solution brings powerful new capabilities to designers of embedded devices — whether for automotive cockpits, medical devices, industrial electronics, aircraft mission computers or government-sensitive dual-persona mobile devices. For more than 10 years, device manufacturers have successfully leveraged INTEGRITY Multivisor virtualization on 32-bit processors. Now they can do the same for the latest 64-bit processor architectures:
Consumer OS Ecosystems — Concurrently run one or more 32-bit or 64-bit guest operating systems such as Linux, QNX, Android or Windows with guaranteed freedom-from-interference, shared peripherals and near-native performance.
Smaller footprint — Decrease the size, weight, complexity and cost of the hardware platform by consolidating several multi-function processors, their wiring and peripherals into a single processor platform while maintaining safe separation and defined processor resource allocation for essential software tasks.
Safely mix critical and general purpose functions — Some systems, such as aircraft mission computers or automotive cockpits, greatly benefit from a software architecture that enables the consolidation of functions at different levels of criticality, a benefit only realized through the trusted execution of multiple functions running concurrently.
Configurable product family — By drawing from a proven and scalable software platform, like INTEGRITY, device manufacturers gain the flexibility to easily configure product capabilities, enabling agile response to market needs, while realizing greater return on software investment.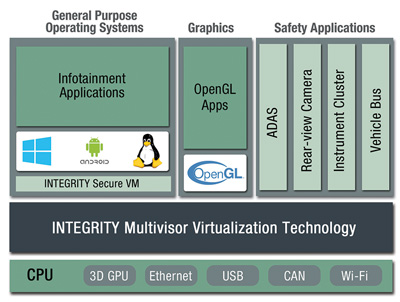 INTEGRITY Multivisor delivers a proven solution with safety- and security-critical real-time system services that provides significant cost and time-to-market savings.
"ARM and Intel 64-bit architectures provide a compelling compute platform for next-generation software-defined devices over a variety of embedded markets," said Dan Mender, vice president of business development, Green Hills Software. "INTEGRITY Multivisor delivers a proven, field-tested solution with a configurable mix of consumer ecosystems safely combined with safety- and security-critical real-time system services—providing significant cost and time-to-market savings to our customers."
INTEGRITY Multivisor is the only hypervisor based on software technology independently certified to the highest levels of safety and security. A summary of its comprehensive development and support offering is as follows:
INTEGRITY Multivisor combines a trusted 64-bit INTEGRITY microkernel with multicore system virtualization for configurable software partitions, real-time and safety-critical processing and hosting of one or more guest operating systems.
Maximum virtualization performance through hardware acceleration built in to the ARM®v8-A architecture and Intel Virtualization Technologies (Intel VT-x and VT-d), for both 32- and 64-bit processors.
Safely share peripherals between critical tasks and guest operating systems.
Green Hills Software's MULTI® integrated software development environment featuring multicore debugger, TimeMachine™ suite, 64-bit optimized C/C++ compilers, MISRA C support, profiler and many other integrated time-saving tools.
Green Hills Software's family of hardware probes for hardware bring-up, low-level debugging and trace-powered visibility.
Green Hills Software's embedded experts collaborate with system designers and architects to tackle the difficult challenges of legacy code porting, reuse, virtualization, device driver configuration and optimization, along with consulting services for general system performance optimization.
Availability
Contact Green Hills for availability of INTEGRITY Multivisor and its comprehensive development suite for your selected ARM and Intel Architecture 64-bit processor.
About Green Hills Software
Founded in 1982, Green Hills Software is the largest independent software vendor for the Internet of Things. In 2008, the Green Hills INTEGRITY–178 RTOS was the first and only operating system to be certified by NIAP (National Information Assurance Partnership comprised of NSA & NIST) to EAL 6+, High Robustness, the highest level of security ever achieved for any software product. Our open architecture integrated development solutions address deeply embedded, absolute security and high–reliability applications for the military/avionics, medical, industrial, automotive, networking, consumer and other markets that demand industry–certified solutions. Green Hills Software is headquartered in Santa Barbara, CA, with European headquarters in the United Kingdom. Visit Green Hills Software at www.ghs.com.
North American Sales Contact:
Green Hills Software
30 West Sola Street,
Santa Barbara, CA 93101
Tel: 805-965-6044
Fax: 805-965-6343
Website: www.ghs.com
Email: info@ghs.com
International Sales Contact:
Green Hills Software Ltd
Fleming Business Centre
Leigh Road
Eastleigh SO50 9PD
UNITED KINGDOM
Tel: +44 (0)2380 649660
Fax: +44 (0)2380 649661
Email: mktg-europe@ghs.com
Media Contact:
Green Hills Software
Barbel French
Tel: 805-965-6044
Email: bfrench@ghs.com