News & Press
Green Hills Software Announces MULTI 7 IDE Release
Seamless Multicore Debugging and Productivity Enhancements
---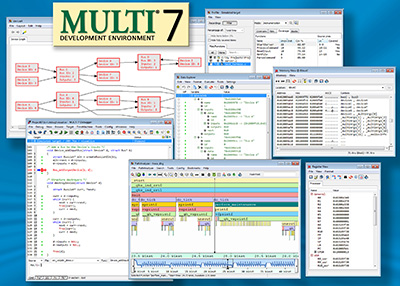 The latest version of Green Hills Software's industry-leading MULTI IDE offers features that simplify the complexity of developing for multicore devices. (Click here for a larger view.)
SANTA BARBARA, CA — September 17, 2015 —Green Hills Software, the largest independent software vendor for the Internet of Things (IoT), today announced a new release of its MULTI® integrated development environment. With this release, Green Hills Software continues to evolve its software development suite with features designed to increase developer productivity and speed time to market.
Major new features include:
Seamless multicore debugging
Green Hills Software was one of the first companies to provide a probe and debugger solution that supported multicore debugging. MULTI 7 continues Green Hills Software's industry-leading multicore support with advances in automation and ease of configuration, allowing developers to approach multicore debugging in much the same way they approach single-core debugging.
Productivity enhancements
MULTI 7 includes a host of improvements designed to enhance developer productivity. This includes modifications that reduce the time to find performance problems, increase the ease of data sharing with other MULTI users, and refine the interface to improve information density and customizability.
"We are increasingly living in a world of multicore devices, but most debugging tools have not fully embraced this fact," said Nathan Field, director of MULTI engineering for Green Hills Software. "MULTI 7 is designed to simplify the inherent complexity of multicore devices while making embedded development faster and easier."
MULTI is the first commercially available IDE to meet the highest standards of functional safety, including IEC 61508:2010 (Industrial), EN 50128:2011 (Railway) and ISO 26262:2011 (Automotive). In addition, MULTI satisfies both SIL 4 (Safety Integrity Level) and ASIL D (Automotive Safety Integrity Level) and is certified by TÜV NORD and exida.
Availability
MULTI 7 is available in September 2015 for Windows, Linux, and Solaris.
About Green Hills Software
Founded in 1982, Green Hills Software is the largest independent software vendor for the Internet of Things. In 2008, the Green Hills INTEGRITY-178 RTOS was the first and only operating system to be certified by NIAP (National Information Assurance Partnership comprised of NSA & NIST) to EAL 6+, High Robustness, the highest level of security ever achieved for any software product. Our open architecture integrated development solutions address deeply embedded, absolute security and high-reliability applications for the military/avionics, medical, industrial, automotive, networking, consumer and other markets that demand industry-certified solutions. Green Hills Software is headquartered in Santa Barbara, CA, with European headquarters in the United Kingdom. Visit Green Hills Software at www.ghs.com.
North American Sales Contact:
Green Hills Software
30 West Sola Street,
Santa Barbara, CA 93101
Tel: 805-965-6044
Fax: 805-965-6343
Website: www.ghs.com
Email: info@ghs.com

Media Contact:
Green Hills Software
Barbel French
Tel: 805-965-6044
Email: bfrench@ghs.com
International Sales Contact:
Green Hills Software Ltd
Fleming Business Centre
Leigh Road, Eastleigh
Hampshire SO50 9PD
UNITED KINGDOM
Tel: +44 (0)2380 649660
Fax: +44 (0)2380 649661
Email: mktg-europe@ghs.com