News & Press
Green Hills Software's INTEGRITY-178 tuMP Multicore Operating System Successfully Integrated on ASELSAN's Multifunctional Display and Mission Computer for Turkey's T-70 Helicopter
---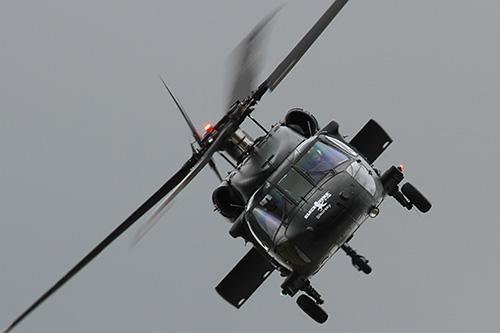 SANTA BARBARA, CA — September 15, 2015 —Green Hills Software, the worldwide leader in high assurance operating systems, announced today that ASELSAN has successfully integrated the INTEGRITY®-178 tuMP™ (time-variant unified multiprocessing) operating system into its new advanced Multifunctional Display and Mission Computer product line. ASELSAN plans to use this new flight-critical computer in its new avionics programs in national and international markets.
ASELSAN's launch customer for its new advanced Multifunctional Display and Mission Computer product line is the Turkish Utility Helicopter Program (TUHP), which features the T-70 Helicopter, a derivative of Sikorsky Aircraft's S-70i™ BLACK HAWK helicopter. The Multifunctional Display and Mission Computer contains up to four Freescale P2041 multicore processor modules, all running the INTEGRITY-178 tuMP multicore operating system, and is intended to support glass cockpits, multifunction displays, flight management systems, and moving map systems.

"After performing an extensive research and selection process for a safety-critical multicore RTOS able to meet both our functional and assurance requirements for the Multifunctional Display and Mission Computer product line, we came to the conclusion that INTEGRITY-178 tuMP is the most advanced and mature solution available with its DO-178B Level A certifiable features and deterministic operation," said Yüksel Serdar, Head of Avionics Business Line at ASELSAN. "INTEGRITY-178 tuMP provides our system designers the ability to safely combine AMP and SMP operation according to precise core and time partition assignments, yielding the deterministic and highly efficient throughput that we required from our multicore Multifunctional Display and Mission Computer product line."
"Green Hills Software is proud to be part of ASELSAN's newest avionics product line incorporating Freescale's industry-leading multicore technology," said Dan O'Dowd, founder and chief executive officer of Green Hills Software. "As a supplier to ASELSAN since 2008 with our DO-178B Level A certified INTEGRITY-178 RTOS, we appreciate the opportunity to continue supporting their new Multifunctional Display and Mission Computer product line with our industry-leading INTEGRITY-178 tuMP operating system. With their reputation as a proven avionics supplier, we anticipate ASELSAN to establish a worldwide leadership position with their new multicore-based family of avionics equipment."
The Green Hills Software INTEGRITY-178 tuMP multicore operating system has been shipping to Green Hills aerospace and defense customers since 2010. It builds upon a proven fourteen-year service history and certification pedigree by incorporating multicore operating system capabilities, including support for AMP and SMP. INTEGRITY-178 tuMP defines groupings (called affinity groups) of how cores will be utilized by one or more applications, with the grouping of cores and applications being permitted to vary over time. Sets of affinity groups are then scheduled independently of other sets of affinity groups, permitting time-lines that closely correspond to application requirements, yet also permitting other sets of affinity groups to be developed that can make use of time windows where cores are not being utilized. Support for multiple simultaneous schedules further extends the tuMP scheduling capabilities, permitting tailoring of available applications and processor time resources based on the vehicles' operational needs, such as flight or combat phase.
INTEGRITY-178 tuMP extends partitioning support beyond single-core processors, ensuring that this highly flexible capability can continue to be effectively used to host multiple applications while preserving resources for application growth without concern about future availability of new single-core processor designs. INTEGRITY-178 tuMP offers complete support for the ARINC-653 Part 1 standard as well as Part 2 optional features such as Sampling Port Data Structures, Sampling Port Extensions, Memory Blocks, Multiple Module Schedules and File System. INTEGRITY-178 tuMP also aligns with the FACE™ 2.1 Safety Base and Security profiles.
For additional inquires and ordering information, contact 1-800-789-9695 or internationally at +1-727-781-4909, or by email: HighAssuranceRTOS@ghs.com.
About ASELSAN
ASELSAN is Turkey's leading defense company holding a well established reputation focusing on in-house critical capabilities, state-of-the-art technologies and sustainable research & development. ASELSAN serves as a technology center in design, development, production, system integration, modernization and after sales services in the fields of Military Communication Systems, Professional Communication Systems, Radar and Electronic Warfare Systems, Electro-Optical Systems, Navigation and Avionic Systems, Defense and Weapon Systems, C4ISR Systems, Naval Combat Systems, Transportation Systems, Security Systems, Energy and Power Management Systems, Toll Collection and Traffic Management Systems. Powered by a fast increasing rate of global exports and an annual turnover continually exceeding the billion dollar benchmark, ASELSAN is consistently ranked among the hundred largest defense companies in the world. More information about ASELSAN is available at www.aselsan.com.
About Green Hills Software
Founded in 1982, Green Hills Software is the largest independent vendor of embedded development solutions. In 2008, the Green Hills INTEGRITY-178B RTOS was the first and only operating system to be certified by NIAP (National Information Assurance Partnership comprised of NSA & NIST) to EAL 6+, High Robustness, the highest level of security ever achieved for any software product. Our open architecture integrated development solutions address deeply embedded, absolute security and high-reliability applications for the military/avionics, medical, industrial, automotive, networking, consumer and other markets that demand industry-certified solutions. Green Hills Software is headquartered in Santa Barbara, CA, with European headquarters in the United Kingdom. Visit Green Hills Software at www.ghs.com.
North American Sales Contact:
Green Hills Software
30 West Sola Street,
Santa Barbara, CA 93101
Tel: 805-965-6044
Fax: 805-965-6343
Website: www.ghs.com
Email: info@ghs.com
Media Contacts:
Green Hills Software
Barbel French
Tel: 805-965-6044
Email: bfrench@ghs.com
International Sales Contact:
Green Hills Software Ltd
Fleming Business Centre
Leigh Road, Eastleigh
Hampshire SO50 9PD
UNITED KINGDOM
Tel: +44 (0)2380 649660
Fax: +44 (0)2380 649661
Email: mktg-europe@ghs.com