News & Press
Green Hills Software and Luxoft Partner to Bring the Automotive HMI Design Tool Chain to a Wide Range of MCUs that Power Digital Instrument Cluster
Integration of Green Hills Software INTEGRITY real-time operating system with Luxoft's Populus Suite HMI design tool chain enables its use on the common MCU platforms for the automotive digital instrument clusters
---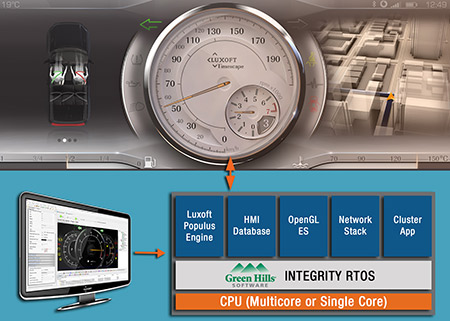 SANTA CLARA, CA — July 21, 2015 — Embedded Systems Conference, Booth B — Green Hills Software, the largest independent software vendor for the Internet of Things, and Luxoft Holding, Inc (NYSE:LXFT), a leading provider of software development services and innovative IT solutions to a global client base, today announced the integration of Green Hills Software's INTEGRITY® real-time operating system (RTOS) with Luxoft's Populus™ Suite HMI design tool chain. With the use of Green Hills Software's MULTI® integrated development tool chain, this combination allows Populus to run on a wide range of automotive grade microcontrollers (MCUs), enabling the creation of robust digital instrument clusters with a low memory footprint.
Luxoft's Populus is specially designed for operation using a low memory footprint. By addressing the specific features of the MCU, a highly optimized Populus runtime engine enables the combination of a high performance HMI with very low memory consumption for both the engine stored in the flash memory as well as the RAM memory needed during the runtime. Luxoft's Populus Suite enables the rapid HMI development for customizable, 2D or 3D, fully digital instrument clusters, head-up displays (HUD), in-vehicle infotainment systems and entry level to mid-tier Head Units.
"Luxoft brings a unique solution to the automotive industry with its Populus Suite that allows the design of modern digital instrument clusters using a low memory footprint," said Chris Tubbs, director of business development EMEA for Green Hills Software. "By partnering with us, Luxoft is not only able to accommodate a greater variety of MCU platforms, but can now offer its customers a full benefit of our unparalleled expertise in embedded application security. The INTEGRITY partitioned architecture securely protects confidential content from malicious attacks and unwanted access, and remains the industry's most trusted real-time operating system."
Designed to meet the highest possible requirements for security, reliability, and performance, the Green Hills INTEGRITY RTOS offers embedded developers effective protection of applications without sacrificing real-time performance. Security is achieved by the use of hardware memory protection to isolate and protect embedded applications. Secure partitions guarantee each task the resources it needs to run correctly and fully protect the operating system and user tasks from errant and malicious code, including denial-of-service attacks, worms, and Trojan horses.
The MULTI integrated development environment leverages 30 years of embedded software development expertise to provide developers an integrated package of tools they can trust to create reliable software efficiently. The MULTI IDE offers integrated multicore development, debugging and programming tools, including AUTOSAR operating system awareness, flash programming for on-chip flash, performance profiler, project builder, code coverage, run-time error checking, MISRA C adherence wizard, and the DoubleCheck™ integrated static code analyzer.
"We see Green Hills Software as the leader in embedded security and real-time operating systems, who has earned the well-deserved trust of the developer community over the last few decades," said Mikhail Bykov, managing director of Luxoft Automotive. "We look forward to bringing our market-leading Populus Suite HMI design tool chain to an even wider range of MCU platforms with the added benefit of the secure INTEGRITY RTOS. Using Populus Suite, the automotive OEMs and Tier 1 suppliers can now implement the latest digital instrument cluster designs whether independently or with the help of our professional services."
Availability
The combined solution is available today and will be demonstrated at the Embedded Systems Conference, July 21-22, 2015, in Santa Clara, CA.
About Green Hills Software
Founded in 1982, Green Hills Software is the largest independent software vendor for the Internet of Things. In 2008, the Green Hills INTEGRITY-178 RTOS was the first and only operating system to be certified by NIAP (National Information Assurance Partnership comprised of NSA & NIST) to EAL 6+, High Robustness, the highest level of security ever achieved for any software product. Our open architecture integrated development solutions address deeply embedded, absolute security and high-reliability applications for the military/avionics, medical, industrial, automotive, networking, consumer and other markets that demand industry-certified solutions. Green Hills Software is headquartered in Santa Barbara, CA, with European headquarters in the United Kingdom. Visit Green Hills Software at www.ghs.com.
About Luxoft
Luxoft Holding, Inc (NYSE:LXFT) is a leading provider of software development services and innovative IT solutions to a global client base consisting primarily of large multinational corporations. Luxoft's software development services consist of core and mission critical custom software development and support, product engineering and testing, and technology consulting. Luxoft's solutions are based on its proprietary products and platforms that directly impact its clients' business outcomes and efficiently deliver continuous innovation. The Company develops its solutions and delivers its services from 24 dedicated delivery centers worldwide. It has over 9,000 employees across 27 offices in 15 countries in North America, Mexico, Western and Eastern Europe, Asia Pacific, and South Africa. Luxoft is incorporated in Tortola, British Virgin Islands, has its operating headquarters office in Zug, Switzerland and is listed on the New York Stock Exchange. For more information, please visit: http://www.luxoft.com.
North American Sales Contact:
Green Hills Software
30 West Sola Street,
Santa Barbara, CA 93101
Tel: 805-965-6044
Fax: 805-965-6343
Website: www.ghs.com
Email: info@ghs.com

Media Contacts:
Green Hills Software
Barbel French
Director, Corporate Communications
Tel: 805-965-6044
Email: bfrench@ghs.com
International Sales Contact:
Green Hills Software Ltd
Fleming Business Centre
Leigh Road, Eastleigh
Hampshire SO50 9PD
UNITED KINGDOM
Tel: +44 (0)2380 649660
Fax: +44 (0)2380 649661
Email: mktg-europe@ghs.com


Luxoft Holding, Inc
Alina V. Plaia, 212-964-9900 ext. 2404
Vice-President, Global Communications
IR@luxoft.com
or
Patrick R. Corcoran, 212-964-9900 ext. 2453
Manager, Public Relations
pcorcoran@luxoft.com