News & Press
Green Hills Software's INTEGRITY-178 tuMP Multicore Operating System Successfully Flies on Northrop Grumman's FlightPro Gen III Mission Computer
Northrop Grumman Achieves Successful Initial Test Flights Using the Proven Leader in DO-178B Level A and SKPP/EAL 6+ Operating Systems for Multicore Processors
---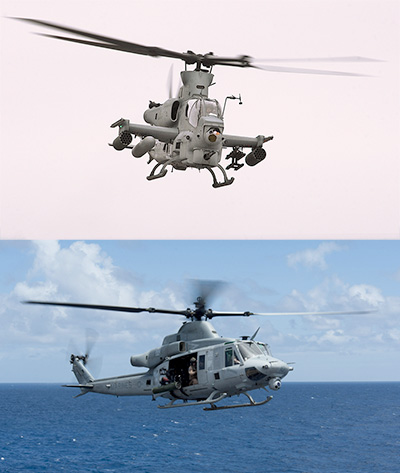 .
SANTA BARBARA, CA — July 14, 2015 — Green Hills Software, the worldwide leader in high assurance operating systems, announced that Northrop Grumman has successfully integrated the INTEGRITY®-178 tuMP multicore operating system in its FlightPro™ Gen III Mission Computer for the U.S. Marine Corps UH-1Y and AH-1Z helicopter upgrades. The Northrop Grumman FlightPro Gen III Mission Computer uses the INTEGRITY-178 Time-Variant Unified Multi Processing (tuMP) operating system on Freescale QorIQ® P4080-based single-board computers.
"Our team has integrated INTEGRITY-178 tuMP on our multicore-based FlightPro Gen III Mission Computer and has started flight testing of this advanced combat mission computer and display system. We are now preparing for the developmental test phase of the program," said Ike Song, vice president, Situational Awareness Systems at Northrop Grumman Electronic Systems. "The results achieved to date with the INTEGRITY-178 tuMP product have met our expectations, while the advanced scheduling capabilities of tuMP have enabled our developers to manage and efficiently utilize all eight cores of the P4080 processor in our system."
The Green Hills Software INTEGRITY-178 tuMP multicore operating system has been shipping to Green Hills aerospace and defense customers for more than 4 years and provides a multicore framework for integrating applications of different programming languages, portable operating environments, and assurance needs. The highly capable scheduling capabilities of INTEGRITY-178 tuMP has uniquely permitted Northrop Grumman's software architects to effectively utilize the eight cores of the Freescale QorIQ P4080 while continuing to meet their mission and flight-critical requirements.
"Green Hills Software is very proud to be part of Northrop Grumman's success to-date," said Dan O'Dowd, founder and chief executive officer of Green Hills Software. "Green Hills Software has developed the INTEGRITY-178 tuMP multicore operating system for customers such as Northrop Grumman who want to maximize utilization of a multicore processor using products from a supplier with a proven reputation for delivery of reliable, safe and secure software."
Green Hills Software's INTEGRITY-178 tuMP multicore operating system builds upon a proven fourteen-year service history and certification pedigree by incorporating multicore operating system capabilities, including support for AMP and SMP. INTEGRITY-178 tuMP defines groupings (called affinity groups) of how cores will be utilized by one or more applications, with the grouping of cores and applications being permitted to vary over time. Sets of affinity groups are then scheduled independently of other sets of affinity groups, permitting time-lines that closely correspond to application requirements, yet also permitting other sets of affinity groups to be developed that can make use of time windows where cores are not being utilized. Multiple schedules support further extends the tuMP scheduling capabilities, permitting tailoring of available applications and processor time resources based on the vehicles' operational needs, such as flight or combat phase. INTEGRITY-178 tuMP extends partitioning support beyond single-core processors, ensuring this highly flexible capability can continue to be effectively used to host multiple applications while preserving resources for application growth without concern about future availability of new single- core processor designs. INTEGRITY-178 tuMP is an ARINC-653 operating system that fully aligns with the FACE™ 2.1 Safety Base and Security profiles.
For more information on the Northrop Grumman's FlightPro Gen III Mission Computer: http://investor.northropgrumman.com/phoenix.zhtml?c=112386&p=RssLanding&cat=news&id=2066535
For additional inquires and ordering information, contact 1-800-789-9695 or internationally at +1-727-781-4909, or by email: HighAssuranceRTOS@ghs.com.
About Green Hills Software
Founded in 1982, Green Hills Software is the largest independent vendor of embedded development solutions. In 2008, the Green Hills INTEGRITY-178 RTOS was the first and only operating system to be certified by NIAP (National Information Assurance Partnership comprised of NSA & NIST) to EAL 6+, High Robustness, the highest level of security ever achieved for any software product. Our open architecture integrated development solutions address deeply embedded, absolute security, and high-reliability applications for the military/avionics, medical, industrial, automotive, networking, consumer, and other markets that demand industry-certified solutions. Green Hills Software is headquartered in Santa Barbara, CA, with European headquarters in the United Kingdom. Visit Green Hills Software at www.ghs.com.
North American Sales Contact:
Green Hills Software
30 West Sola Street,
Santa Barbara, CA 93101
Tel: 805-965-6044
Fax: 805-965-6343
Website: www.ghs.com
Email: info@ghs.com
Media Contact:
Green Hills Software
Barbel French
Tel: 805-965-6044
Email: bfrench@ghs.com
International Sales Contact:
Green Hills Software Ltd
Fleming Business Centre
Leigh Road, Eastleigh
Hampshire SO50 9PD
UNITED KINGDOM
Tel: +44 (0)2380 649660
Fax: +44 (0)2380 649661
Email: mktg-europe@ghs.com