News & Press
Green Hills Software Announces INTEGRITY® RTOS Multicore Support for OCTEON® III Family of SoC Processors from Cavium
Secure Networking Software Leader Supplies Proven RTOS and Industry-leading Tools for New Low-power, Ultra-high Throughput SoCs
---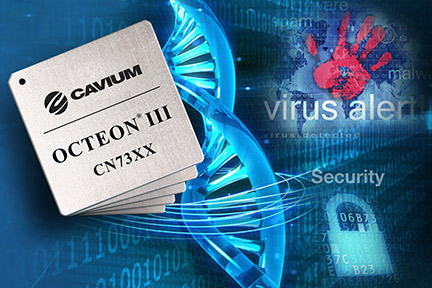 SANTA BARBARA, CA and SAN JOSE, CA — June 10, 2015 — Green Hills Software, the largest independent software vendor of embedded software solutions for high assurance operating systems, and Cavium, Inc. (NASDAQ: CAVM), a leading provider of semiconductor products that enable intelligent processing for enterprise, data center, cloud, wired and wireless networking, today announced the availability of Green Hills Software's multicore development solutions for Cavium's OCTEON® III family of multicore processors.
Green Hills Software's portfolio of optimized software solutions and comprehensive services for OCTEON's MIPS64®-based architecture includes the certified safe and secure INTEGRITY® real-time operating system (RTOS), Green Hills Platform for Secure Networking, MULTI® integrated development environment (IDE), optimizing C/C++ compilers, and Green Hills Probe, along with extensive legacy application porting and code optimization services.
"We continue to make significant progress in our development to support MIPS architectures and cores and today are announcing our support for the Cavium OCTEON III family of MIPS64 processors," said Tim Reed, vice president of Advanced Products, Green Hills Software. "Cavium's leading CPUs combined with the Green Hills INTEGRITY real-time operating system and best-in-class tools allow our joint customers to take full advantage of the exceptional performance and code efficiency for this class of products in the creation of innovative, cost-effective solutions."
"Green Hills support for our newest OCTEON III SoC processors brings robust real-time support, secure networking and a comprehensive range of development services to our expanding joint customer base," said Steve Klinger, senior director, Infrastructure Products Group, Cavium, Inc. "Green Hills has been a long term partner and member of the Cavium PACE ecosystem and we are pleased to be working with them once again to enable the use of their advanced software solutions on our market-leading processors."
Green Hills Support for OCTEON III Processors
Green Hills Software's comprehensive solutions for Cavium deliver a flexible set of multicore operating system configurations, extensive networking support and advanced multicore debug tools to optimize multicore software design.
INTEGRITY RTOS – provides device total reliability and absolute security while delivering a flexible set of multicore operating system configurations, including single core, Asymmetric Multiprocessing (AMP) and Symmetric Multiprocessing (SMP) with support for network acceleration and offload.
INTEGRITY Secure Networking – the INTEGRITY security architecture and its advanced GHNet TCP/IP v4/v6 networking stack deliver unmatched security and reliability without compromising system throughput.
MULTI Integrated Development Environment – provides a complete software development environment for building, debugging, testing and optimizing multicore embedded applications.
Green Hills Optimizing Compilers – generate the smallest and fastest code for C, C++, targeting the MIPS64 Architecture.
Green Hills Probe – helps developers find and fix bugs faster than any other probes with its comprehensive run-control and multicore processor visibility interfaces optimized to support synchronous hardware and software multicore breakpoints.
Professional Services – Green Hills Software's embedded experts collaborate with end user system designers and architects to tackle the difficult problems of legacy code porting, reuse and optimization for VxWorks, OSE, Linux, in-house and more, along with consulting services for general system performance optimization.
Cavium's OCTEON III SoC Processors
Cavium's new OCTEON III SoCs combine advanced compute and processing capabilities with high levels of connectivity in a low-power envelope and compact footprint to address next-generation market requirements for wireless infrastructure, networking appliances, switches, routers and storage applications. Among the first OCTEON III processors to be supported by the latest Green Hills INTEGRITY RTOS will be the new 4 – 16 core CN73XX and CN72XX pin-compatible processor families, which incorporate a wide variety of I/O options to deliver leading control, data plane and services processing in a single SoC.
Availability
For more information on OCTEON processors, contact Cavium Sales at sales@cavium.com. The Green Hills suite of multicore solutions for Cavium's family of OCTEON III processors will be commercially available in Q4, 2015. For more information, contact info@ghs.com.
About Cavium, Inc.
Cavium (NASDAQ: CAVM) is a leading provider of highly integrated semiconductor products that enable intelligent processing in enterprise, data center, cloud and wired and wireless service provider applications. Cavium offers a broad portfolio of integrated, software-compatible processors ranging in performance from 100 Mbps to 100 Gbps that enable secure, intelligent functionality in enterprise, data-center, broadband/consumer and access and service provider equipment. Cavium's processors are supported by ecosystem partners that provide operating systems, tool support, reference designs and other services. Cavium's principal office is in San Jose, CA with design team locations in California, Massachusetts, India and China. For more information, please visit: http://www.cavium.com.
About Green Hills Software
Founded in 1982, Green Hills Software is the largest independent software vendor for the Internet of Things. In 2008, the Green Hills INTEGRITY-178 RTOS was the first and only operating system to be certified by NIAP (National Information Assurance Partnership comprised of NSA & NIST) to EAL 6+, High Robustness, the highest level of security ever achieved for any software product. Our open architecture integrated development solutions address deeply embedded, absolute security and high-reliability applications for the military/avionics, medical, industrial, automotive, networking, consumer and other markets that demand industry-certified solutions. Green Hills Software is headquartered in Santa Barbara, CA, with European headquarters in the United Kingdom. Visit Green Hills Software at www.ghs.com.
North American Sales Contact:
Green Hills Software
30 West Sola Street,
Santa Barbara, CA 93101
Tel: 805-965-6044
Fax: 805-965-6343
Website: www.ghs.com
Email: info@ghs.com
Media Contacts:
Green Hills Software
Barbel French
Tel: 805-965-6044
Email: bfrench@ghs.com
International Sales Contact:
Green Hills Software Ltd
Fleming Business Centre
Leigh Road, Eastleigh
Hampshire SO50 9PD
UNITED KINGDOM
Tel: +44 (0)2380 649660
Fax: +44 (0)2380 649661
Email: mktg-europe@ghs.com
Cavium, Inc.
Angel Atondo
+1-408-948-7417
angel.atondo@cavium.com