News & Press
Green Hills Software is Premier Security Software Partner in Freescale's Internet of Tomorrow Tour
Freescale's Internet of Tomorrow Tour Launched at ARM TechCon 2014 in Santa Clara, CA
---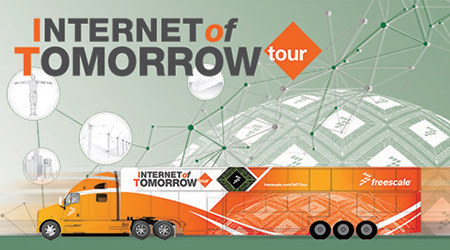 SANTA CLARA, CA — October 1, 2014 — ARM Technology Conference 2014, Booth 1104 — Green Hills Software, the largest independent software vendor for the Internet of Things, today announced its premier security software partnership with Freescale® in Freescale's Internet of Tomorrow Tour trailer. The three-story trailer will be in the exhibit hall during the ARM Technology Conference and open during Expo hours. This event represents the launch of a tour across 20,000 miles that will include 100 customer sites, 23 training sessions, 20 university visits, and 9 industry events.
Freescale's Internet of Tomorrow Tour highlights IoT technology from the smallest wearable microcontrollers to the most complex networking infrastructure in applications such as:
Smart Cities and Energy
Smart Hospitality
Smart Home and Buildings
Automotive ADAS, Instrument Clusters and Infotainment
Wearables and Medical
Smart Networks
In the IoT trailer, Green Hills will demonstrate its unique security, safety and real-time software solutions driving the IoT of today and connected products tomorrow.
Securing Devices in the IoT
Hackers are increasingly targeting embedded devices as the rollout of the Internet of Things gains momentum. Green Hills Software will demonstrate a software architecture for securing devices in the IoT based on the INTEGRITY® RTOS (real-time operating system), which has been certified as the most secure operating system in the world. A Freescale i.MX 6-based point-of-sale reference platform demonstrates how the proven separation policies of INTEGRITY can defeat RAM scraper malware recently used in attacks at several major US retailers.
High Performance, Safety-Certified Digital Instrument Cluster
Green Hills Software will demonstrate a high performance digital instrument cluster based on the Freescale i.MX6 processor running a safety-critical HMI built with DiSTI's GL Studio SC (Safety Critical). The instrument cluster's software foundation is the safety-certified INTEGRITY RTOS, which provides real-time performance combined with Open GL graphics acceleration to enable blistering graphics performance at 70 frames per second. This platform is ideal for OEMs and Tier 1s looking to combine ISO 26262 safety certification with high performance, advanced 2D and 3D graphics.
Streaming Media for Automotive Infotainment
Green Hills Software will demonstrate the Cinemo Media Engine™ and its powerful embedded multimedia player supporting all popular disc, audio and video file formats, integrated and optimized for the INTEGRITY RTOS, running on the Freescale i.MX6 automotive-grade processor. Media is also streamed wirelessly to multiple synchronized tablets demonstrating rear seat distributed infotainment over a Wi-Fi network.
Secure Remote Management of Critical IoT Devices
Web connectivity, secure communications, and machine-to-machine (M2M) management is featured in this demonstration running the safety-certified INTEGRITY RTOS and hardware-accelerated cryptography of the Freescale C29X Crypto Coprocessor. A secure web-based management interface based on the Barracuda application server from Real Time Logic connects into a M2M network to perform control and state monitoring of Freescale's Kinetis® based IoT devices.
"We chose Green Hills for this project, because the Green Hills industry-leading security expertise and comprehensive software development solutions are especially key to the continuing advancement of the IoT," said John Dixon, director of corporate marketing for Freescale. "Green Hills has a very long and successful track record of enabling our customers across multiple Freescale architectures with a common suite of development tools, run-time software, and processor probes which fully complement and maximize our processor portfolio."
"Freescale is a leader in helping customers bring their processor designs into the connected world of IoT," said Dan Mender, vice president of business development, Green Hills Software. "Our partnership with Freescale adds the essential security, safety and reliability to these designs through a comprehensive portfolio of products, services and unmatched expertise. Together, we enable our customers to deliver the highest levels of safety, security and reliability covering a wide range of products, market and business needs."
Visit us at our launch, October 1– 2, 2014 at ARM TechCon in Santa Clara at Freescale's Internet of Tomorrow Tour trailer for a personalized demonstration.
For more information on Green Hills Software's presence at the Internet of Tomorrow Tour, visit: www.ghs.com/IoT/Tour.
About Green Hills Software
Founded in 1982, Green Hills Software is the largest independent software vendor for the Internet of Things. In 2008, the Green Hills INTEGRITY-178 RTOS was the first and only operating system to be certified by NIAP (National Information Assurance Partnership comprised of NSA & NIST) to EAL 6+, High Robustness, the highest level of security ever achieved for any software product. Our open architecture integrated development solutions address deeply embedded, absolute security and high-reliability applications for the military/avionics, medical, industrial, automotive, networking, consumer and other markets that demand industry-certified solutions. Green Hills Software is headquartered in Santa Barbara, CA, with European headquarters in the United Kingdom. Visit Green Hills Software at www.ghs.com.
North American Sales Contact:
Green Hills Software
30 West Sola Street,
Santa Barbara, CA 93101
Tel: 805-965-6044
Fax: 805-965-6343
Website: www.ghs.com
Email: info@ghs.com
International Sales Contact:
Green Hills Software Ltd
Fleming Business Centre
Leigh Road
Eastleigh SO50 9PD
UNITED KINGDOM
Tel: +44 (0)2380 649660
Fax: +44 (0)2380 649661
Email: mktg-europe@ghs.com
Media Contact:
Green Hills Software
Barbel French
Tel: 805-965-6044
Email: bfrench@ghs.com