News & Press
Green Hills Software Announces Renesas Electronics' R-Car Automotive Platform
Targeting Digital Clusters, Infotainment Systems for the Modern Digital Cockpit and Advanced Driver Assist (ADAS) Vision and Sensor Fusion Systems
---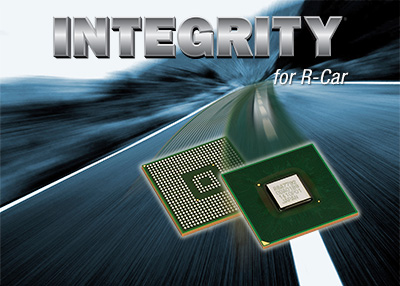 TOKYO, JAPAN and SANTA BARBARA, CA — August 28, 2014 — Green Hills Software, the largest independent software vendor for the Internet of Things, today announced a comprehensive family of solutions for the Renesas ARM® Cortex®-A15 and Cortex-A7 based R-Car platform based around the Green Hills INTEGRITY® real time operating system (RTOS) and INTEGRITY Multivisor™ secure hypervisor, including support for the revolutionary new R-Car V2H ADAS platform announced today by Renesas Electronics Corporation.
Green Hills has worked with Renesas, the world's number one microcontroller supplier, to create an 'INTEGRITY for R-Car' support package that includes support for all of the major features of the R-Car processors.
"Renesas sees Green Hills Software's INTEGRITY as the industry-leading product in the RTOS space, providing microprocessor manufacturers with a platform to deliver secure, reliable, high-performance solutions," said Ryuji Omura, executive vice president at Renesas Electronics Corporation. "We are very pleased to use Green Hills INTEGRITY as the target platform for the R-Car support package, providing INTEGRITY-based solutions to automotive manufacturers to bring their products to market faster and more cost effectively."
The supported high-performance OpenGL ES 3D graphics processor enables digital cluster and infotainment solutions with unparalleled graphics quality.
The INTEGRITY Multivisor utilizes the ARM virtualization extensions available on the Renesas R-Car devices to enable one of the world's highest performing multi-domain infotainment and safety-critical execution environments for next-generation automotive designs. Shipping since 2003, INTEGRITY Multivisor is the only virtualization solution built upon safety-certified separation kernel technology that provides highly assured isolation between the instrument cluster, ADAS, rear-view camera, and other safety-critical automotive subsystems functions while simultaneously and safely hosting popular infotainment operating systems such as Linux and Android, on a same single multicore Renesas R-Car device. This powerful, next-generation automotive ECU consolidation architecture also enables OEMs and Tier 1s to reduce design/integration complexity and time-to-market while delivering the core foundation for the vehicle software-defined cockpit.
The on-chip image recognition and image processing using Image Processor (IMP) and Image Renderer (IMR) peripherals of the Renesas R-Car devices, together with the full complement of drivers for hardware accelerated image decoders and video signal processors, is a must-have for high-performance safety-focused ADAS vision solutions. The fast and highly precise Green Hills Ethernet AVB (Audio Video Bridging) solution allows for complete integration into the modern vehicle, and provides the performance needed for fusion of multiple ADAS information channels. The acclaimed safety pedigree of the INTEGRITY RTOS is a requirement for any ADAS solution being built to meet modern functional safety and ISO 26262 requirements. The semi-autonomous and autonomous vehicles of tomorrow will be built on the 'INTEGRITY for R-Car' solution that is available today.
"Our partnership with Renesas provides customers with one of the most advanced automotive solutions in the market that relies on the industry's most trusted real-time operating system — INTEGRITY — and its award winning security architecture," said Tim Reed, vice-president Advanced Products at Green Hills Software. "The Green Hills solution for Renesas Electronics' R-Car devices will be the industry's only run-time and development software on that platform with guaranteed real-time determinism and safety for manufacturers of automotive devices."
Availability
INTEGRITY releases supporting the R-Car family of devices are available from Green Hills today.
Renesas DevCon Japan 2014
Green Hills Software will be attending this private exhibition to be held at The Prince Park Tower Tokyo hotel on September 2 of this year to introduce and demonstrate its R-Car V2H and other R-Car solutions.
About Green Hills Software
Founded in 1982, Green Hills Software is the largest independent software vendor for the Internet of Things. In 2008, the Green Hills INTEGRITY-178 RTOS was the first and only operating system to be certified by NIAP (National Information Assurance Partnership comprised of NSA & NIST) to EAL 6+, High Robustness, the highest level of security ever achieved for any software product. Our open architecture integrated development solutions address deeply embedded, absolute security and high-reliability applications for the military/avionics, medical, industrial, automotive, networking, consumer and other markets that demand industry-certified solutions. Green Hills Software is headquartered in Santa Barbara, CA, with European headquarters in the United Kingdom. Visit Green Hills Software at www.ghs.com.
North American Sales Contact:
Green Hills Software
30 West Sola Street,
Santa Barbara, CA 93101
Tel: 805-965-6044
Fax: 805-965-6343
Website: www.ghs.com
Email: info@ghs.com
International Sales Contact:
Green Hills Software Ltd
Fleming Business Centre
Leigh Road
Eastleigh SO50 9PD
UNITED KINGDOM
Tel: +44 (0)2380 649660
Fax: +44 (0)2380 649661
Email: mktg-europe@ghs.com
Media Contact:
Green Hills Software
Barbel French
Tel: 805-965-6044
Email: bfrench@ghs.com