News & Press
Green Hills Software and Crank Software Announce System-Critical Platform for Graphics-Rich Embedded Devices
Targeting Safety, Security and Reliability Requirements for Automotive, Consumer and Industrial
---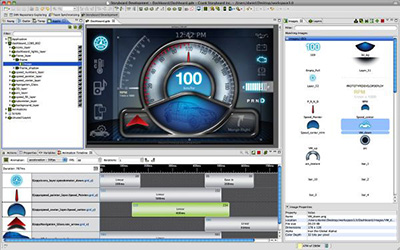 SAN JOSE, CA — April 1, 2014 — EE Live!, Booth #1308 — Green Hills Software, the largest independent software vendor for the Internet of Things, and Crank Software, an innovator in embedded user interface (UI) solutions, today announced an innovative 3D graphical user interface design and deployment workflow for embedded applications with system-critical functionality. When running on the Green Hills INTEGRITY® real time operating system (RTOS), the Crank Storyboard™ Suite enables both the UI designer and software implementer to work in parallel, saving time and heightening the user experience for automotive, consumer and industrial devices that demand critical levels of safety, security or reliability.
Rich graphics and intuitive user interfaces are essential components of many embedded devices — from mobile phones to automotive instrument clusters to complex industrial machines on the factory floor. At the same time, commerce and government regulations are requiring these same devices to guarantee higher levels of safety, security or reliability.
The combined offering of the INTEGRITY RTOS and the Storyboard Suite is the ideal solution to address these converging requirements:
INTEGRITY RTOS has achieved the highest functional safety certification levels in industrial, medical, automotive and railway, and delivers real-time determinism with high-performance by leveraging a processor's performance accelerators including the GPU and MMU
Storyboard Suite bridges the time-consuming gap between UI designers and software engineers, enabling parallel and processor-independent development and deployment
Record-setting Green Hills C/C++ 32-bit and 64-bit toolchain
MULTI® integrated development environment (IDE), multicore debugger, MISRA C/C++ code quality adherence, profiler and many other integrated time-saving tools
"Crank recognizes Green Hills Software's INTEGRITY as a leader in the RTOS space, providing embedded developers with a platform to deliver secure, reliable, high-performance applications," said Jason Clarke, vice president of sales & marketing, Crank Software. "We are excited to use Green Hills INTEGRITY as a target platform for the Crank Storyboard Suite, allowing teams to bring their INTEGRITY-based product to market faster and with a remarkable user interface."
"Crank Software uniquely bridges the gap between UI design and embedded systems by streamlining the development lifecycle and enabling customers to get products to market faster," said Dan Mender, vice president, business development, Green Hills Software. "Our partnership with Crank Software provides customers an integrated software solution that secures confidential content from malicious attacks and unwanted access by relying on the industry's most trusted real-time operating system — INTEGRITY — and its award winning security architecture."
Availability
The combined solution is available today and can be seen in the Green Hills exhibit (booth #1308) at the EE Live! Conference in San Jose, April 1 – 3, 2014.
About Crank Software
Crank Software is an innovator in embedded user interface (UI) solutions, reducing the time, costs, and headaches that notoriously come hand-in-hand with UI development by letting designers and engineers work side-by-side. Crank products manage the UI lifecycle from design to deployment. Teams can use the software to develop, prototype, and refine the UI until it's perfect — both in function and in design — and then deploy the UI for the final product. With a shorter development time and a more collaborative process, products get to market first with a higher ROI and a remarkable UI that builds brand loyalty.
About Green Hills Software
Founded in 1982, Green Hills Software is the largest independent software vendor for the Internet of Things. In 2008, the Green Hills INTEGRITY-178 RTOS was the first and only operating system to be certified by NIAP (National Information Assurance Partnership comprised of NSA & NIST) to EAL 6+, High Robustness, the highest level of security ever achieved for any software product. Our open architecture integrated development solutions address deeply embedded, absolute security and high-reliability applications for the military/avionics, medical, industrial, automotive, networking, consumer and other markets that demand industry-certified solutions. Green Hills Software is headquartered in Santa Barbara, CA, with European headquarters in the United Kingdom. Visit Green Hills Software at www.ghs.com.
North American Sales Contact:
Green Hills Software
30 West Sola Street,
Santa Barbara, CA 93101
Tel: 805-965-6044
Fax: 805-965-6343
Website: www.ghs.com
Email: info@ghs.com
International Sales Contact:
Green Hills Software Ltd
Fleming Business Centre
Leigh Road
Eastleigh SO50 9PD
UNITED KINGDOM
Tel: +44 (0)2380 649660
Fax: +44 (0)2380 649661
Email: mktg-europe@ghs.com
Media Contacts:
Green Hills Software
Barbel French
Tel: 805-965-6044
Email: bfrench@ghs.com