News & Press
Samsung and Green Hills Mobile Announce
Samsung KNOX™ Hypervisor —
Powered by INTEGRITY™
Government-Certified Mobile Hypervisor Now Available in Samsung KNOX Enterprise Solutions
---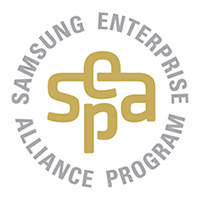 SAN FRANCISCO, CA — February 27, 2014 — RSA CONFERENCE 2014 — Samsung Electronics Co., Ltd. and Green Hills Software, the largest independent supplier of embedded and mobile virtualization solutions, today announced that the INTEGRITY® Multivisor™ hypervisor is now available as a certified security option in the Samsung KNOX™ mobile enterprise family.
Targeting government and regulated enterprise certified security requirements, the new solution offers an industry-first in ultra-security. Informally referred to as 'KNOX INTEGRITY,' Samsung KNOX Hypervisor — Powered by INTEGRITY™ integrates Samsung's advanced device management and Android hardening capabilities with INTEGRITY Multivisor, enabling multiple, strongly isolated instances of Android as well as additional security-critical functions that run directly on INTEGRITY Multivisor to meet the most demanding industry requirements for certification and accreditation.
"The combination of Samsung's KNOX security enhancements together with the isolation technology provided by the INTEGRITY separation kernel brings government and regulated enterprise users the highest level of security available in a commercial mobile device," said Gordon Jones, Vice President of Secure Mobility, Green Hills Software. "KNOX INTEGRITY meets the highest-level security and safety certification and accreditation requirements in government, medical, and other regulated industries."
"We designed the KNOX platform to provide hardware and software integrated security for advanced data and privacy protection and to give our enterprise customers the ability to separate enterprise and personal environments," said Injong Rhee, Senior Vice President of KNOX Business, IT & Mobile Communications Division at Samsung Electronics. "INTEGRITY Multivisor is an excellent addition to the enterprise solutions ecosystem for Samsung mobility."
Use case examples for KNOX INTEGRITY include simultaneous access to Internet and government sensitive networks from a single device and the use of a separate medical Android instance for managing life-critical, wirelessly connected medical equipment. Samsung KNOX Hypervisor — Powered by INTEGRITY is available today on a selection of popular Samsung Galaxy smartphones and tablets, delivered by a wide range of systems integrators and enterprise solutions providers. For more information, contact virtual-info@ghs.com.
About INTEGRITY Multivisor
Shipping since 2003, the INTEGRITY Multivisor hypervisor is built upon security-certified separation kernel technology that provides highly assured isolation between one or more mobile operating system instances (personas) while also providing a native open standard execution environment for security-critical tasks, including FIPS 140-2 certified and NSA Suite B compliant data encryption, user authentication, and security event auditing. As the digital world grows in complexity, the hypervisor provides the right level of abstraction — the virtual machine — for flexibility, scalability, and portability, enabling elegant yet practical solutions to previously intractable computing problems.
About Green Hills Mobile
Green Hills Mobile is a business group within Green Hills Software, the largest independent vendor of embedded software solutions. Green Hills Mobile's Type-1 hypervisor, INTEGRITY Multivisor, is built on INTEGRITY separation kernel technology, certified by the NSA to EAL 6+, High Robustness, the highest level of security ever achieved for any software product. Our open architecture integrated solutions address absolute security and high-reliability applications for the consumer electronics, medical, industrial, automotive, networking, avionics and other markets that demand industry-certified solutions. Green Hills Mobile is proud to be a gold member of Samsung Enterprise Alliance Program (SEAP). Green Hills Software is headquartered in Santa Barbara, CA, with European headquarters in the United Kingdom. Visit Green Hills Mobile at www.ghs.com/mobile.
About Samsung Electronics Co., Ltd.
Samsung Electronics Co., Ltd. is a global leader in technology, opening new possibilities for people everywhere. Through relentless innovation and discovery, we are transforming the worlds of TVs, smartphones, tablets, PCs, cameras, home appliances, printers, LTE systems, medical devices, semiconductors and LED solutions. We employ 286,000 people across 80 countries with annual sales of US$216.7 billion. To discover more, please visit www.samsung.com.
North American Sales Contact:
Green Hills Software
30 West Sola Street,
Santa Barbara, CA 93101
Tel: 805-965-6044
Fax: 805-965-6343
Website: www.ghs.com
Email: info@ghs.com
International Sales Contact:
Green Hills Software Ltd
Fleming Business Centre
Leigh Road
Eastleigh SO50 9PD
UNITED KINGDOM
Tel: +44 (0)2380 649660
Fax: +44 (0)2380 649661
Email: mktg-europe@ghs.com

Media Contacts:
Green Hills Software
Barbel French
Tel: 805-965-6044
Email: bfrench@ghs.com