News & Press
Green Hills Software Expands INTEGRITY RTOS Support to Renesas' 2nd-Generation
R-Car Product Family
Provides Guaranteed Safety Separation, Fast Graphics and Boot Performance for Multicore ARM Cortex-A15/A7
---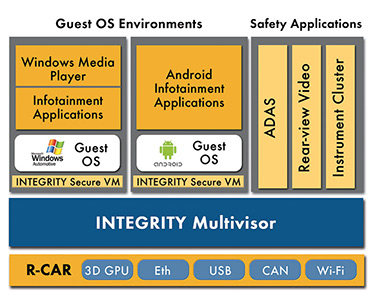 TOKYO, JAPAN and SANTA BARBARA, CALIFORNIA — September 27, 2013 — Green Hills Software, the largest independent vendor of embedded software solutions, today announced its support of the industry-leading INTEGRITY® real-time operating system (RTOS) and comprehensive software development and run-time solutions for Renesas Electronics' 2nd-generation R-Car series of SoCs (system-on-chip). Green Hills Software offers a unique solution to the ARM® Cortex™-A15 and A7 architectures, including INTEGRITY Multivisor™ virtualization technology, the INTEGRITY RTOS, MULTI® multicore debugger, TimeMachine™ trace suite, GPU-accelerated graphics, a rich suite of middleware and the Green Hills family of JTAG and trace probes.
Renesas Electronics' R-Car devices are SoCs offering low power consumption and high system integration and among the R-Car series of SoCs, the second-generation R-Car H2 and R-Car M2 are ideal for next-generation high-end automotive infotainment systems, multimedia and navigations systems, instrument clusters and advanced driver assistance systems (ADAS). The Green Hills solution for R-Car will be the industry's only run-time and development software on that platform with guaranteed real-time determinism and safety for manufacturers of automotive devices requiring an RTOS designed to meet functional safety requirements combined with powerful human-machine interfaces (HMI), multicore debugging, optimal compiler performance and deep-visibility trace debugging.
"Future automotive systems from 2015 and beyond will demand fast startup capabilities and fast rendering performance for high-quality designs that match the luxuriousness of the vehicles using these embedded R-Car-based devices, as well as the ability to help the driver establish an even higher level of safety with the vehicle," said Tatsuya Nishihara, vice president, chief of Automotive Solutions Business Division at Renesas Electronics. "The combination of Renesas' new R-Car devices with Green Hills Software's commitment to functional safety requirements bundled with its high-quality and high-performance INTEGRITY RTOS and INTEGRITY Multivisor virtualization technology provides a platform that our customers both demand and will enjoy using."
Green Hills Software offers a comprehensive solution for ARM Cortex-A15 and A7 devices including the following major components:
INTEGRITY Multivisor technology combines a trusted microkernel with system virtualization technology into an IVI platform featuring configurable software partitions, shared graphics, real-time and safety-critical processing, and one or more infotainment guest operating systems
INTEGRITY RTOS for applications demanding safety, reliability and security with HMI design software and drivers for the INTEGRITY RTOS
MULTI integrated software development environment featuring multicore debugger, profiler and many other integrated time-saving tools
Tool chain compliant to automotive and industrial safety standards ISO 26262 Automotive Safety Integrity Level D (ASIL-D) and IEC 61508 Safety Integrity Level 3 (SIL 3)
TimeMachine debugger and SuperTrace™ probe for revolutionary rewind debugging and non-intrusive analysis
EEMBC®-certified C/C++ compilers for R-Car's Cortex-A15 and A7 cores that outperform competing compilers as much as 30-35%
Code quality tools including MISRA C/C++ and DoubleCheck™ static analyzer
Green Hills probe for hardware bring-up and low-level debugging and development
"Green Hills is excited to support the new R-Car devices as part of its more than 20-year history of supporting Renesas' automotive devices," said Tim Reed, vice president of Advanced Products at Green Hills Software. "Green Hills is a market leader with a long history of applying its leading-edge RTOS, compiler, debugging and hypervisor software technology to ARM-based processors."
About Green Hills Software
Founded in 1982, Green Hills Software is the largest independent vendor of embedded development solutions. In 2008, the Green Hills INTEGRITY-178B RTOS was the first and only operating system to be certified by NIAP (National Information Assurance Partnership comprised of NSA & NIST) to EAL 6+, High Robustness, the highest level of security ever achieved for any software product. Our open architecture integrated development solutions address deeply embedded, absolute security and high-reliability applications for the military/avionics, medical, industrial, automotive, networking, consumer and other markets that demand industry-certified solutions. Green Hills Software is headquartered in Santa Barbara, CA, with European headquarters in the United Kingdom. Visit Green Hills Software at www.ghs.com.
North American Sales Contact:
Green Hills Software
30 West Sola Street,
Santa Barbara, CA 93101
Tel: 805-965-6044
Fax: 805-965-6343
Website: www.ghs.com
Email: info@ghs.com

Media Contact:
Green Hills Software
Barbel French
Tel: 805-965-6044
Email: bfrench@ghs.com
International Sales Contact:
Green Hills Software Ltd
Fleming Business Centre
Leigh Road
Eastleigh
Hampshire SO50 9PD
UNITED KINGDOM
Tel: +44 (0)2380 649660
Fax: +44 (0)2380 649661
Email: mktg-europe@ghs.com