News & Press
Green Hills Software and Symphony Teleca Corporation Collaborate on Delivering Ethernet AVB to the Automotive Industry
Combines Lower Cost, Higher Performance In-vehicle Network Services with Industry-leading Security and Reliability Platform
---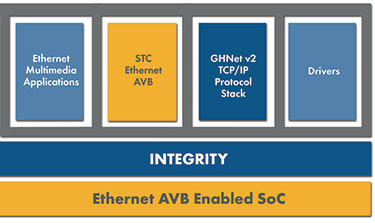 NOVI, MI — June 5, 2013 — Telematics Update, Booth 39-40 — Green Hills Software, the largest independent vendor of embedded software solutions, and Symphony Teleca Corporation, the services organization dedicated exclusively to helping clients manage the global convergence of software, the cloud and connected devices, today announced their collaboration to integrate Symphony Teleca's Ethernet Audio Video Bridging solution with Green Hills Software's safe and secure INTEGRITY® real time operating system (RTOS) and its INTEGRITY Multivisor technology. The combination of these companies' solutions provides automotive OEMs and Tier1s a fast and low risk track to Ethernet AVB solutions while tackling the challenging requirement for security, availability and scalability for this network service.
Besides being available as a stand-alone integration based on the native INTEGRITY RTOS, the Symphony Teleca's Ethernet AVB solution will be fully integrated with the INTEGRITY Multivisor virtualization platform in order to allow the secure, reliable delivery and communication of Ethernet AVB messages to native INTEGRITY applications and/or to a high-level guest operating system (HLOS) such as Linux and/or Android.
"The deployment of Ethernet AVB in next-generation vehicles will open up a wide-ranging assortment of use cases from high-end infotainment systems based on an HLOS like Android to a basic vehicle camera with minimal processor and memory resources," said Dean Miles, senior vice president Automotive, Symphony Teleca. "By integrating with the Green Hills INTEGRITY RTOS and their INTEGRITY Multivisor virtualization technology, we cover the gamut of requirements our customers must address while delivering the highest level of secure, reliable Ethernet AVB access in the vehicle."

The Symphony Teleca Ethernet AVB solution provides an affordable, scalable, flexible, robust and security-guaranteed in-vehicle network that helps automotive customers tackle the cost and complexity challenges involved in delivering next-generation in-vehicle-infotainment solutions. The company delivers a complete solution for silicon vendors who want to provide Ethernet AVB capable chipsets, automotive OEMs who consider Ethernet AVB based networks or automotive Tier1 suppliers who plan to provide Ethernet AVB capable ECUs or components.
Key highlights of the Green Hills - Symphony Teleca solution are:

Full compliance with the current AVnu Automotive Requirements Document
Endpoint implementation for IEEE 802.1AS, 802.1Qav, IEEE 802.1Qat, IEEE 802.1ba, IEEE 1722
Supports 61884-4 (MPEG2-TS), 1722a MJPEG AVTP Mapping (Other formats to be supported later)
Flexible design to improve stack performance and lower CPU overhead with the use of available hardware accelerators in a silicon
Small footprint, high performance, proven security, when delivered on native INTEGRITY
HLOS-independent, secure, reliable Ethernet AVB access, when delivered on INTEGRITY Multivisor technology
Adaptable for all major silicon vendors

Green Hills Software's flagship run-time offering is the INTEGRITY RTOS. The success of INTEGRITY RTOS is due to its advanced separation kernel architecture, incorporating memory protection, guaranteed resource availability, secure remote management and deterministic real-time response. INTEGRITY technology is independently certified to numerous safety and security standards in industrial safety: the highest level for industrial safety certification (IEC 16508 SIL 3), and the highest level of security certification (Common Criteria - ISO/IEC 15408), railway safety (EN 50128 SWSIL 4), medical (FDA Class III), avionics (DO-178B Level A), and EAL 6+, High Robustness, the highest Common Criteria security level ever achieved for any software product.

Green Hills Software's INTEGRITY Multivisor technology is the only virtualization solution built upon a security-certified separation kernel technology, INTEGRITY RTOS, that provides highly assured isolation between system services, guest operating systems and system devices while also providing a native, open-standard execution environment for critical applications, such as security functionality and fast-boot real-time applications. INTEGRITY Multivisor technology offers several approaches to virtualization including paravirtualization and full virtualization with or without hardware hypervisor acceleration.

"Ethernet AVB is rapidly becoming the new connectivity solution for next-generation vehicle buses," said Dan Mender, vice president, business development, Green Hills Software. "We are pleased to work with Symphony Teleca to combine the INTEGRITY RTOS' independent certification pedigree and proven deployment in the world's most secure and reliable systems with their high-performance Ethernet AVB offering."

Availability
Early access for this integration is planned for Q3 2013. For more information, contact your local Green Hills or Symphony Teleca representative.
About Green Hills Software
Founded in 1982, Green Hills Software is the largest independent vendor of embedded development solutions. In 2008, the Green Hills INTEGRITY-178B RTOS was the first and only operating system to be certified by NIAP (National Information Assurance Partnership comprised of NSA & NIST) to EAL 6+, High Robustness, the highest level of security ever achieved for any software product. Green Hills Software's open architecture integrated development solutions address deeply embedded, safety/security and high-reliability applications for the military/avionics, medical, industrial, automotive, networking, consumer and other markets that demand industry-certified solutions. Green Hills Software is headquartered in Santa Barbara, CA, with European headquarters in the United Kingdom. Visit Green Hills Software at www.ghs.com.
About Symphony Teleca
Symphony Teleca Corporation, headquartered in Mountain View, Calif., is a global innovation and development services company. The company offers ideation, design, development and managed services to independent software vendors, mobile device and solutions manufacturers and the connected, analytics-driven enterprise. Clients leverage their partnership with Symphony Teleca to deliver innovative SaaS / Cloud enterprise software products, mobile software products and solutions, big data and analytic services and solutions, and enterprise mobility solutions. Symphony Teleca is a fast growing global company with over 6,000 employees in over 35 offices worldwide, including delivery centers in Asia, Australia, Europe and the Americas. For more information visit www.symphonyteleca.com.
North American Sales Contact:
Green Hills Software
30 West Sola Street,
Santa Barbara, CA 93101
Tel: 805-965-6044
Fax: 805-965-6343
Website: www.ghs.com
Email: info@ghs.com



Media Contacts:
Green Hills Software
Barbel French
Tel: 805-965-6044
Email: bfrench@ghs.com
International Sales Contact:
Green Hills Software Ltd
Fleming Business Centre
Leigh Road
Eastleigh
Hampshire SO50 9PD
UNITED KINGDOM
Tel: +44 (0)2380 649660
Fax: +44 (0)2380 649661
Email: mktg-europe@ghs.com


Symphony Teleca Corp.
Keith Higgins
Tel: 650-935-9495
Email: keith.higgins@symphonyteleca.com