News & Press
Green Hills Software and LieberLieber Software Partner for End-to-end Model-driven Approach for Embedded Systems
New Generation of Model-driven Development Through Integration of MULTI IDE and AMUSE
---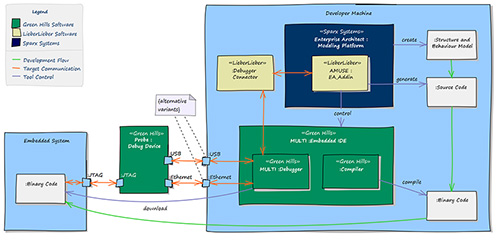 Click here for a larger view
SANTA BARBARA, CA and NUREMBERG, GERMANY — February 26, 2013 — embedded world, Hall 4, Stand 325 — Green Hills Software, the largest independent vendor of embedded software solutions, and LieberLieber, worldwide renowned model engineering specialists on Enterprise Architect from Sparx Systems, today announced their partnership. Driven by the demand of their customers to support an end-to-end model-driven approach for embedded systems, Green Hills Software's Green Hills Software's MULTI® integrated development environment (IDE) and LieberLieber's AMUSE (Advanced Modeling Using Simulation and Execution) will be fully integrated to provide an enhanced toolchain with new debugging and testing capabilities at the modeling level directly connected to the embedded target.
The solution combines highly optimized code generation (AMUSE) with a best-in-class compiler for embedded devices (MULTI) and landmark debugging capabilities for UML/SysML models directly on the embedded target. The MULTI IDE will enable compiling and deployment of generated C/C++ code right from the model to the respective target platform. The debugging information will be graphically visualized by AMUSE in the original modeling environment where the user can improve the model and instantly deploy the changes back on the target for re-testing. The code generation supports Class Diagrams, State Charts and Activity Diagrams and is optimized for low-end embedded devices. The innovative approach can be applied to all targets supported by the MULTI IDE.
The new toolchain will consist of the high-end MULTI IDE from Green Hills Software for embedded systems, the well-known modeling platform Enterprise Architect from Sparx Systems and the graphical UML debugger and code generator AMUSE from LieberLieber.
"We are proud to collaborate with Green Hills Software to provide a Model Engineering Solution based on Enterprise Architect for MULTI IDE customers," said Daniel Siegl, chief executive officer of LieberLieber Software.
"Today's developers want the most efficient means to produce their products, to get to market quicker and to deliver high quality products with minimal bugs. The combination of LieberLieber's AMUSE and Green Hills Software's industry-leading compilers and the MULTI IDE will provide these capabilities in a well-integrated package," explained Chris Tubbs, business development director EMEA, Green Hills Software.
About LieberLieber Software
Founded in 1996, LieberLieber Software is a software engineering company specialized on model engineering and amazing new technologies like large scale interactive multi touch devices. LieberLieber's Model Engineering division is focused on Enterprise Architect add-ins and customizations for the automotive, aerospace, defense, medical equipment, mechanical engineering, embedded systems and software development markets. Together with our competent and complementary partners, we develop reliable solutions based on state-of-the-art technologies, such as interactive UML/SysML, model simulation, MDD, DSL, DME for .NET and embedded systems. LieberLieber Software is headquartered in Vienna, Austria, with partnerships all over the world. For more information, please visit www.lieberlieber.com
About Green Hills Software
Founded in 1982, Green Hills Software is the largest independent vendor of embedded development solutions. In 2008, the Green Hills INTEGRITY-178B RTOS was the first and only operating system to be certified by NIAP (National Information Assurance Partnership comprised of NSA & NIST) to EAL 6+, High Robustness, the highest level of security ever achieved for any software product. Our open architecture integrated development solutions address deeply embedded, absolute security and high-reliability applications for the military/avionics, medical, industrial, automotive, networking, consumer and other markets that demand industry-certified solutions. Green Hills Software is headquartered in Santa Barbara, CA, with European headquarters in the United Kingdom. Visit Green Hills Software at www.ghs.com.
North American Sales Contact:
Green Hills Software
30 West Sola Street,
Santa Barbara, CA 93101
Tel: 805-965-6044
Fax: 805-965-6343
Website: www.ghs.com
Email: info@ghs.com

Media Contact:
Green Hills Software
Barbel French
Tel: 805-965-6044
Email: bfrench@ghs.com
International Sales Contact:
Green Hills Software Ltd
Fleming Business Centre
Leigh Road
Eastleigh
Hampshire SO50 9PD
UNITED KINGDOM
Tel: +44 (0)2380 649660
Fax: +44 (0)2380 649661
Email: mktg-europe@ghs.com