News & Press
Netas Selects Green Hills Software for its Router and Switch Communications Products
Proven RTOS and Advanced IDE Enable Reliability for Products in Harsh Tactical Environments
---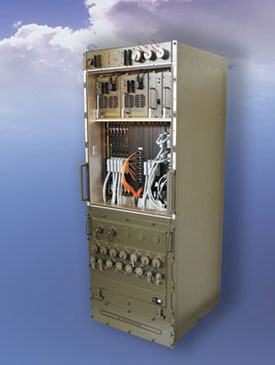 NUREMBERG, GERMANY and SANTA BARBARA, CA — March 1, 2011 — Embedded World — Green Hills Software, the largest independent vendor of embedded software solutions, has announced that its INTEGRITY® real-time operating system (RTOS) and MULTI® integrated development environment (IDE) are being used by Netas in the company's communications switch and router products targeted for use in harsh tactical environments. Netas, Turkey's leading telecommunications infrastructure provider and systems integrator, deploys best-of-breed networks and telecom solutions to organizations including Turk Telekom and the Turkish Armed Forces.
The INTEGRITY RTOS forms the basis of Netas products, which include the Tactical Multiservice Switcher/Router (MSSR) and Media Gateway and the Ruggedized Converged Access Switch (CAS). MSSR was developed for access and backbone switching requirements of next-generation Tactical Area Networks based on IP technologies. CAS is a switch, router and media gateway that provides both voice and IP data communications using time-division multiplexing (TDM) and packet data architectures. It can also be connected to other switches to deliver voice and circuit switched data communication. Both products utilize a 20Gbit/s network processing unit and traffic manager chipset.
The INTEGRITY RTOS runs on Freescale PowerQUICC II™ MPC8280 and PowerQUICC III™ MPC8560 integrated communications processors and manages all the switching functions within the CAS and MSSR. Commenting on the selection process, Omer Aydin, Director of Defense Product Solutions, Netas, said: "We embarked on an extensive technical investigation into embedded operating systems and selected INTEGRITY due to its ability to provide virtual memory management, deterministic real-time performance and its supporting ecosystem of integrated debugging tools. Interrupts generated by data path hardware must be serviced in real time in order to provide wire-speed switching; the INTEGRITY high-performance kernel enabled us to achieve this. The MULTI development environment allowed rapid development and reduced our time-to-market."
Christopher Smith, vice president marketing, Green Hills Software, said, "The Netas engineering team is highly experienced in the use of real-time operating systems and determined that our field-proven INTEGRITY RTOS was the most effective solution for its product development demands. Green Hills Software is pleased to have been selected as the best solution."
About Green Hills Software
Founded in 1982, Green Hills Software is the largest independent vendor of embedded development solutions. In 2008, the Green Hills INTEGRITY-178B RTOS was the first and only operating system to be certified by NIAP (National Information Assurance Partnership comprised of NSA & NIST) to EAL6+, High Robustness, the highest level of security ever achieved for any software product. Our open architecture integrated development solutions address deeply embedded, absolute security and high-reliability applications for the military/avionics, medical, industrial, automotive, networking, consumer and other markets that demand industry-certified solutions. Green Hills Software is headquartered in Santa Barbara, CA, with European headquarters in the United Kingdom. Visit Green Hills Software at www.ghs.com.

About Netas
Netas provides end-to-end systems integration solutions in the fields of converged broadband, next generation networks and defense communications to its defense, carrier and enterprise customers. In the last three years, the company has been ranked first and second among the top 500 Turkish ICT companies in the "Software Exports Category" and currently develops software solutions for more than 160 global operators. Netas also plays a vital role in the modernization of the Turkish defense communication network with bespoke systems to meet the needs of the Turkish Armed Forces. Currently, 31.87% of the company's shares are quoted on the Istanbul Stock Exchange (ISE), while other shareholders include OEP RHEA Turkey Tech B.V., (53.13%) and the Turkish Armed Forces Foundation (15%). www.netas.com.tr

Green Hills, the Green Hills logo, MULTI and INTEGRITY are trademarks or registered trademarks of Green Hills Software in the U.S. and/or internationally. All other trademarks are the property of their respective owners.

North American Sales Contact:
Green Hills Software
30 West Sola Street
Santa Barbara, CA 93101
Tel: 805-965-6044
Fax: 805-965-6343
Website: www.ghs.com
Email: info@ghs.com

International Sales Contact:
Green Hills Software Ltd
Fleming Business Centre
Leigh Road
Eastleigh
Hampshire SO50 9PD
UNITED KINGDOM
Tel: +44 (0)2380 649660
Fax: +44 (0)2380 649661
Email: mktg-europe@ghs.com
Media Contact:
Green Hills Software
Barbel French
Tel: 805-965-6044
Email: bfrench@ghs.com