News & Press
Green Hills Software Selected by Vocality in its Router and Secure Voice Communications Equipment for the Satellite Communications Market
Efficiency and Reliability are Key Requirements
---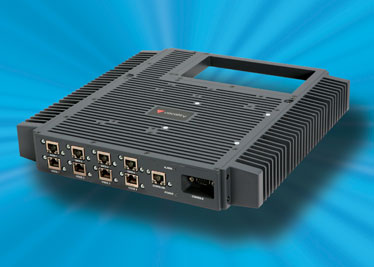 SANTA BARBARA, CA — February 14, 2011 — Green Hills Software, the largest independent vendor of embedded software solutions, today announced that its GateD® Routing Protocols, MULTI® integrated development environment (IDE) and Green Hills Probe are being used by Vocality International in the development of the company's router and secure voice equipment for the satellite communications market. Vocality's BASICS and PRO products provide radio relay, secure voice, network routing and IP security capabilities and are used globally in vehicular installations such as submarines, command and control planes, military logistics deployments and emergency aid missions.
Unlike most commercial routing and communications devices, Vocality's products are developed specifically for applications where size, reliability and performance in harsh or restrictive conditions are critical driving factors. They operate in situations of natural emergency for aid agencies and broadcasters and provide communications for the military, delivering a lightweight solution with low power consumption and heat dissipation. These factors are important as equipment is often transported by helicopters and light vehicles – to minimize deployment time – and then powered by generators or batteries.
Explaining the impact these demands have on the company's supplier selection, Julian Bashford, chief executive officer of Vocality, said, "Our customers deploy our systems very quickly, often in extremely difficult conditions, and they must work perfectly on arrival. Consequently, we take a rigorous approach when choosing our partners; the efficiency and reliability we require from our hardware must be matched by the software. The performance of Green Hills Software's products and its track record of providing certified software for mission-critical applications in sectors including aerospace and defense, gave us the confidence to make a long term commitment for our product range."
Martin Saunders, chief technology officer of Vocality, added, "Green Hills Compilers have proven to be extremely reliable and the MULTI toolset is a very powerful debugging environment. The GateD routing protocols have a small footprint, which enables us to optimize bandwidth in challenging environments."

Christopher Smith, vice president marketing, Green Hills Software, said, "Vocality is a prime example of how an innovative specialist company, armed with efficient, modern software development tools, can bring a product range to market that matches and beats the offerings of much larger competitors. We are pleased to be able to support them in their ongoing development program."
About Green Hills Software
Founded in 1982, Green Hills Software is the largest independent vendor of embedded development solutions. In 2008, the Green Hills INTEGRITY-178B RTOS was the first and only operating system to be certified by NIAP (National Information Assurance Partnership comprised of NSA & NIST) to EAL6+, High Robustness, the highest level of security ever achieved for any software product. Our open architecture integrated development solutions address deeply embedded, absolute security and high-reliability applications for the military/avionics, medical, industrial, automotive, networking, consumer and other markets that demand industry-certified solutions. Green Hills Software is headquartered in Santa Barbara, CA, with European headquarters in the United Kingdom. Visit Green Hills Software at www.ghs.com.

About Vocality
Vocality - a private British organization - has US Headquarters in Washington DC and its International Head Office is in Surrey England. For over a decade, Vocality has delivered network routers and multiplexers into a mix of military welfare and commercial satellite installations. Whilst Vocality is often considered to be "under the radar" compared with larger router manufacturers, Vocality solutions are usually chosen in preference to commercial alternatives due to the company's expertise in environments where size, power, bandwidth and reliability are key considerations. The company's head office is based in England, but its product reach is truly international. Visit Vocality at www.vocality.com.

Green Hills, the Green Hills logo, MULTI and INTEGRITY are trademarks or registered trademarks of Green Hills Software in the U.S. and/or internationally. All other trademarks are the property of their respective owners

North American Sales Contact:
Green Hills Software
30 West Sola Street
Santa Barbara, CA 93101
Tel: 805-965-6044
Fax: 805-965-6343
Website: www.ghs.com
Email: info@ghs.com

International Sales Contact:
Green Hills Software Ltd
Fleming Business Centre
Leigh Road
Eastleigh
Hampshire SO50 9PD
UNITED KINGDOM
Tel: +44 (0)2380 649660
Fax: +44 (0)2380 649661
Email: mktg-europe@ghs.com
Media Contacts:
Green Hills Software
Barbel French
Tel: 805-965-6044
Email: bfrench@ghs.com