News & Press
Green Hills Software Powers Next-Generation Routing Solution for Rockwell Collins
Operating System and Networking Services Core to Joint Tactical Radio Systems (JTRS) Tactical Data Controller (TDC)
---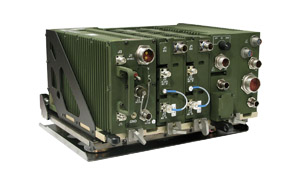 WASHINGTON, DC – November 30, 2010 – Software Defined Radio Forum — Green Hills Software, Inc., the largest independent vendor of embedded software solutions, today announced that its INTEGRITY® RTOS, GateD® Advanced Routing and MULTI® integrated development environment (IDE) have been selected by Rockwell Collins as the operating system unicast routing solution and tools environment for the Joint Tactical Radio System (JTRS) Enterprise Network Services Tactical Data Controller product. Green Hills products and services are the basis for the secure and reliable interoperation between networking and legacy waveforms as well as critical radio network management and networking services.
Role of the Tactical Data Controller for Warfighter Operations
"Network Enterprise Domain (NED) Network Management/Services products deliver mobile networking capability with the ability to plan, manage, and monitor JTRS networks, which allow U.S. warfighters, at the tactical edge, from all military services, to access and share relevant information in real time," as discussed on the JPEO JTRS website. In addition to managing the network, Green Hills Software's INTEGRITY operating system is also the engine behind many of the tactical radios that must be managed by NED. According to John Warther, vice president of government programs, Green Hills Software, "these devices must interoperate and be capable of routing and retransmitting services between networking and legacy waveforms without interruption or denial of service."
The primary purpose of the Tactical Data Controller is to "design, develop, test, and field enterprise software solutions for routing data between the JTRS Increment 1 networking waveforms -- Wideband Networking Waveform (WNW) and Soldier Radio Waveform (SRW) -- and the Legacy High Frequency (HF), Ultra High Frequency (UHF) SATCOM and SINCGARS waveforms. These products are intended to be integrated with GMR and HMS form factors within their current development schedules.
"The significance of this effort is that there must be compatibility when routing legacy HF and UHF SATCOM waveforms with more current SRW and WNW waveforms," stated Warther. "Delivering this capability requires a partitioned, real-time operating system that can pass the Unified Infosec certification."
"Green Hills software has a long legacy in supporting the JPEO JTRS Enterprise and associated Software Defined Radio manufacturers," according to Dan Mender, vice president of business development, Green Hills Software. "Our continued investments in ensuring our products comply with the Software Communications Architecture (SCA) coupled with our participation in the SCA NEXT working group, while offering integrated commercial-grade unicast routing support with GateD, ensure that our customers can count on Green Hills Software to deliver the necessary support required for current and future success in this innovative radio program."
About JPEO JTRS

The Joint Tactical Radio System (JTRS) has evolved from a loosely associated group of radio replacement programs to an integrated effort to network multiple weapon system platforms and forward combat units where it matters most – at the last tactical mile. In 2005, JTRS was restructured under the leadership of a Joint Program Executive Officer (JPEO) headquartered in San Diego, California. The JPEO JTRS provides an enterprise acquisition and management approach to successfully and efficiently develop, produce, integrate, test and field the JTRS networking capability.
By developing and implementing an open architecture of cutting–edge radio waveform technology, multiple radio types (e.g., handheld, ground–mobile, airborne, maritime) are now capable of communicating with one another. The ultimate goal is to produce a family of interoperable, modular, software-defined radios that operate as nodes in a network. These radios enable secure wireless communication and networking services for mobile and fixed forces, consisting of joint, U.S. Allies and coalition partners, and in time, disaster response personnel. Visit http://jpeojtrs.mil for more information.
Role of Green Hills Solutions

The INTEGRITY RTOS provides the high-reliability, hard real-time microkernel architecture that scales for use in deeply embedded and mobile devices to the most safety and security-critical systems. The IPv6-ready networking services and GateD advanced routing support provide commercially-validated and integrated networking capabilities that are becoming core to the many JTRS radio programs. The integrated development environment – MULTI – provides the ideal tools solution for developing highly reliable, next-generation connected devices.
About Green Hills Software

Founded in 1982, Green Hills Software, Inc. is the largest independent vendor of embedded development solutions. In 2008, the Green Hills INTEGRITY-178B RTOS was the first and only operating system to be certified by NIAP (National Information Assurance Partnership comprised of NSA & NIST) to EAL6+, High Robustness, the highest Common Criteria security level ever achieved for a software product. Our open architecture integrated development solutions address deeply embedded, absolute security and high-reliability applications for the military/avionics, medical, industrial, automotive, networking, consumer and other markets that demand industry-certified solutions. Green Hills Software is headquartered in Santa Barbara, CA, with European headquarters in the United Kingdom. Visit Green Hills Software at www.ghs.com.

Green Hills, the Green Hills logo, MULTI and INTEGRITY are trademarks or registered trademarks of Green Hills Software, Inc. in the U.S. and/or internationally. All other trademarks are the property of their respective owners.

North American Sales Contact:
Green Hills Software, Inc.
30 West Sola Street,
Santa Barbara, CA 93101,
Tel: 805-965-6044
Fax: 805-965-6343
Website: www.ghs.com
Email: sales@ghs.com

International Sales Contact:
Green Hills Software Ltd
Fleming Business Centre
Leigh Road
Eastleigh
Hampshire SO50 9PD
UNITED KINGDOM
Tel: +44 (0)2380 649660
Fax: +44 (0)2380 649661
Email: mktg-europe@ghs.com
Media Contacts:
Green Hills Software, Inc.
Barbel French
Tel: 805-965-6044
Email: bfrench@ghs.com