News & Press
STMicroelectronics and Green Hills Software Announce Software Support for
SPEAr Microprocessor Families
MPUs Target Human-Machine Interface (HMI) Communications and Security Applications
---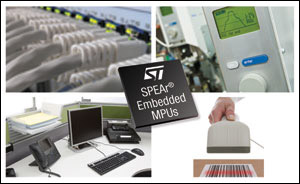 GENEVA and SANTA BARBARA, CA — October 20, 2010 — STMicroelectronics (NYSE: STM), a world leader in System-on-Chip technology, and Green Hills Software, Inc., the largest independent vendor of embedded software solutions, today announced software development tools and operating system support for the STMicroelectronics SPEAr300 and SPEAr600 family of microprocessor units (MPUs). Green Hills Software's INTEGRITY® real-time operating system (RTOS), which is designed for use in embedded systems that require maximum reliability and absolute security, is now available for the SPEAr300, SPEAr310, SPEAr320 and SPEAr600 devices.
Combining an ARM926EJ-S processor core with a rich set of audio, communication and connectivity interfaces, including those for Ethernet and Gigabit Ethernet, the SPEAr3xx MPU family is optimized to meet the particular challenges posed by human-machine interface, communications and security applications. The SPEAr600 delivers enhanced performance as a result of dual ARM926EJ-S cores, powerful connectivity features and a programmable LCD interface.
"This effort with Green Hills Software demonstrates ST's commitment to enlarge the software ecosystem around the SPEAr embedded microprocessor family," said Loris Valenti, group VP and general manager, Computer Systems Division, STMicroelectronics. "The combination of the highly secure INTEGRITY RTOS with SPEAr MPUs will enable equipment manufacturers to develop complex yet flexible digital applications that incorporate a high level of reliability supported by software standards compliance."
INTEGRITY for STMicroelectronics SPEAr300 and SPEAr600
The INTEGRITY RTOS achieves unprecedented levels of security, safety and reliability for applications in industrial control, automation, transportation, medical, consumer and other industries. In addition to the INTEGRITY RTOS, the integrated Green Hills Software development solution for ST's SPEAr300 and SPEAr600 MPUs consists of the following components:
Comprehensive portfolio of embedded communications, graphics, file systems, and other middleware;
MULTI® integrated development environment – providing the leading software development tool set for embedded software developers;
Green Hills optimized C/C++ compilers – generating the highest-performance and smallest-footprint code for the ARM architecture;
Green Hills Probe – providing low-level control of the ARM core for device-driver development, board bring-up, and system debugging.
Commenting on the comprehensive support for the SPEAr family, Christopher Smith, vice president of marketing, Green Hills Software, said: "With its mix of on-chip peripherals and low power consumption, the ST SPEAr family MPUs are excellent devices for embedded designs in communications, display and control applications. The addition of the Green Hills Software RTOS and embedded real-time toolchain create a compelling solution for system developers."
Support for the ST SPEAr300 and SPEAr600 families is available today.
About STMicroelectronics
STMicroelectronics is a global leader serving customers across the spectrum of electronics applications with innovative semiconductor solutions. ST aims to be the undisputed leader in multimedia convergence and power applications leveraging its vast array of technologies, design expertise and combination of intellectual property portfolio, strategic partnerships and manufacturing strength. In 2009, the Company's net revenues were $8.51 billion. Further information on ST can be found at www.st.com.
About Green Hills Software

Founded in 1982, Green Hills Software, Inc. is the largest independent vendor of embedded development solutions. In 2008, the Green Hills INTEGRITY-178B RTOS was the first and only operating system to be certified by NIAP (National Information Assurance Partnership comprised of NSA & NIST) to to EAL6+, High Robustness, the highest Common Criteria security level ever achieved for a software product. Our open architecture integrated development solutions address deeply embedded, absolute security and high-reliability applications for the military/avionics, medical, industrial, automotive, networking, consumer and other markets that demand industry-certified solutions. Green Hills Software is headquartered in Santa Barbara, CA, with European headquarters in the United Kingdom. Visit Green Hills Software at www.ghs.com.

Green Hills, the Green Hills logo, MULTI and INTEGRITY are trademarks or registered trademarks of Green Hills Software, Inc. in the U.S. and/or internationally. All other trademarks are the property of their respective owners.

North American Sales Contact:
Green Hills Software, Inc.
30 West Sola Street,
Santa Barbara, CA 93101,
Tel: 805-965-6044
Fax: 805-965-6343
Website: www.ghs.com
Email: sales@ghs.com

International Sales Contact:
Green Hills Software Ltd
Fleming Business Centre
Leigh Road
Eastleigh
Hampshire SO50 9PD
UNITED KINGDOM
Tel: +44 (0)2380 649660
Fax: +44 (0)2380 649661
Email: mktg-europe@ghs.com
Media Contacts:
Green Hills Software, Inc.
Barbel French
Tel: 805-965-6044
Email: bfrench@ghs.com


STMicroelectronics
Michael Markowitz
Tel: 781-591-0354
Email: michael.markowitz@st.com