News & Press
Green Hills Software Delivers Advanced Static Code Analysis Tool Integrated with MULTI® IDE
Manage Application Code Complexity While Enabling Safer and More Secure Software
---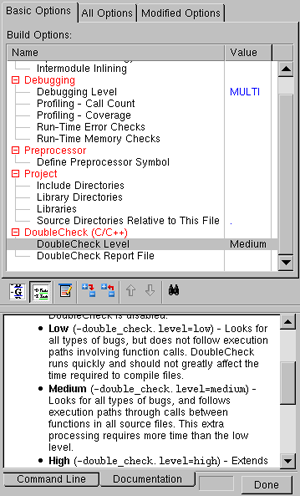 BOSTON, MA — September 21, 2010 – Embedded Systems Conference, Booth 409 —Green Hills Software, Inc., the largest independent vendor of embedded software solutions, today announced that its powerful user-based static code analyzer, DoubleCheck™, is now provided as a standard feature with its MULTI® Professional tool suite, the embedded industry's benchmark in multicore development and debugger solutions. With this integration, Green Hills Software increases both developer productivity and code quality while enabling better management and control of code complexity and the overall coding process. This enabling technology is a critical requirement for medical and industrial device development where advanced software development processes are the norm.

"The FDA is seeing rapid growth in software complexity in medical devices and we have recommended publicly that software developers utilize static analysis tools," commented Rick Chapman, FDA/CDRH acting branch chief, General Hospital Devices Branch.

Application complexity has become the most significant challenge for embedded software developers who need to develop reliable, safe, and secure applications while meeting time-to-market windows. Traditional debugging and testing methodologies fall short when dealing with today's sophisticated code bases. The DoubleCheck static analysis tool provides a fundamental development and design strategy to cope with the explosion in code complexity.
By taking advantage of accurate and efficient analysis algorithms that have been tuned and field proven over the past 28 years in Green Hills C/C++ compilers, DoubleCheck can be used as an integrated tool with MULTI to perform compilation and full program defect analysis in the same pass. DoubleCheck has been measured to be up to five times faster than other commercial analyzers due to design efficiencies. And, it is fast enough to be used continuously in a rapid iterative development environment by all developers. Furthermore, unlike other offerings, DoubleCheck automatically uses the same code configuration as is used during the final build process. This allows developers to be certain that the executed code is the same as the code that was "double-checked."
The DoubleCheck static analysis tool helps automate the enforcement of coding standards by measuring and optionally limiting software component complexity by using standardized metrics such as McCabe – making code easier to understand, maintain, and test. A range of configuration options add a number of intelligent quality controls to the DoubleCheck tool's bug finding mission, including a number of MISRA compliance checks and enforcement of optional but important language standards.
"Green Hills has helped customers design, develop, debug, and deploy the world's most reliable, secure systems possible. Green Hills has unmatched expertise in understanding the requirements to develop such systems," said Dave Kleidermacher, chief technology officer, Green Hills Software. "MULTI Professional with DoubleCheck combined with our safety and security certified INTEGRITY® operating system and range of development and certification services provide customers complete solutions they can rely on when developing complex, critical embedded systems."

About Green Hills Software

Founded in 1982, Green Hills Software, Inc. is the largest independent vendor of embedded development solutions. In 2008, the Green Hills INTEGRITY-178B RTOS was the first and only operating system to be certified by the NSA to EAL6+ High Robustness, the highest level of security ever achieved for any software product. Our open architecture integrated development solutions address deeply embedded, absolute security and high-reliability applications for the military/avionics, medical, industrial, automotive, networking, consumer and other markets that demand industry-certified solutions. Green Hills Software is headquartered in Santa Barbara, CA, with European headquarters in the United Kingdom. Visit Green Hills Software at www.ghs.com.

Green Hills, the Green Hills logo, MULTI, INTEGRITY and DoubleCheck are trademarks or registered trademarks of Green Hills Software, Inc. in the U.S. and/or internationally. All other trademarks are the property of their respective owners.
North American Sales Contact:
Green Hills Software, Inc.
30 West Sola Street,
Santa Barbara, CA 93101,
Tel: 805-965-6044
Fax: 805-965-6343
Website: www.ghs.com
Email: sales@ghs.com

International Sales Contact:
Green Hills Software Ltd
Fleming Business Centre
Leigh Road
Eastleigh
Hampshire SO50 9PD
UNITED KINGDOM
Tel: +44 (0)2380 649660
Fax: +44 (0)2380 649661
Email: mktg-europe@ghs.com
Media Contact:
Green Hills Software, Inc.
Barbel French
Tel: 805-965-6044
Email: bfrench@ghs.com