News & Press
Green Hills Software's INTEGRITY-178B Operating System Selected by Vibro-Meter for New Engine Monitoring Systems
Engine Monitoring Unit for Rolls Royce Trent 900 Engine Used on Airbus A380

---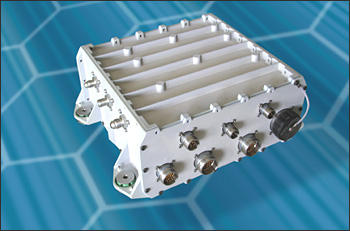 SANTA BARBARA, CA—June 15, 2005
Green Hills Software, Inc., the technology leader in operating systems and development tools for safe and secure systems, announced today the selection of its INTEGRITY-178B real-time operating system (RTOS) by the Digital System Sciences (DSS) Group of Vibro-Meter for use on new engine Vibration and Health Monitoring Systems.

Vibro-Meter, a Meggitt company, chose the INTEGRITY-178B RTOS for its advanced Engine Monitoring Units (EMUs) that monitor the health of jet engines while in flight. This includes the monitoring for vibration and for adverse events. When such an event occurs, the system can automatically inform the pilot to take appropriate corrective action. Under normal operating conditions, the data is logged to guide later maintenance actions. These Engine Monitoring Units are unique in the avionics industry in that they are physically mounted on the engine, where the environments are severe as compared to most avionics environments.

The first engine-mounted Engine Monitoring Unit has successfully passed initial RTCA/DO-178B certification, which is required by the FAA for flight-critical software. The Rolls Royce Trent 900 engine with Vibro-Meter's EMU was recently seen in the dramatic first flight of the Airbus A380.

"Vibro-Meter selected the Green Hills INTEGRITY-178B RTOS because it was fully certified to DO 178B," said Pete Child of DSS. "Secondly, INTEGRITY-178B was chosen due to its maturity compared to other available RTOS products. The selection of this product reduced the risk in obtaining a safety-critical certification for the Engine Monitoring Unit program."

"Green Hills Software is very pleased that Vibro-Meter's Digital System Sciences Group selected our INTEGRITY-178B RTOS and that INTEGRITY has once again successfully passed DO-178B certification," said Dan O'Dowd, founder and chief executive officer of Green Hills Software. "Green Hills Software has developed a very skilled and experienced in-house safety-critical engineering staff. This group is able to provide the high levels of support needed by our safety-critical customers to attain stringent certifications such as DO-178B."

Green Hills Software has an entire division dedicated to developing and supporting safety-critical and embedded security products. This group develops and maintains all safety-critical artifacts for the INTEGRITY-178B RTOS's DO-178B certifications. It also provides expert safety-critical consulting and custom certification services for Green Hills Software customers.

Green Hills Software is the only ISV that has designed, developed and certified an ARINC 653-1 operating system to the FAA's most stringent standard for flight-critical avionics systems: RTCA/DO 178B Level A. Green Hills Software is also the only ISV with on-staff engineers experienced in DO-178B Level A certification.


About Green Hills Software

Founded in 1982, Green Hills Software, Inc. is the technology leader for real-time operating systems and software development tools for 32- and 64-bit embedded systems. Our royalty-free INTEGRITY® RTOS, velOSity™ microkernel, compilers, MULTI® and AdaMULTI™ integrated development environments and TimeMachine™ debugger offer a complete development solution that addresses both deeply embedded and high-reliability applications. Green Hills Software is headquartered in Santa Barbara, CA, with European headquarters in the United Kingdom. Visit Green Hills Software on the web at www.ghs.com.



Green Hills Software, the Green Hills logo, MULTI, INTEGRITY, velOSity, AdaMULTI, TimeMachine, and Padded Cell are trademarks or registered trademarks of Green Hills Software, Inc. in the U.S. and/or internationally. All other trademarks are the property of their respective owners.

North American Sales Contact:
Green Hills Software, Inc.
30 West Sola Street,
Santa Barbara, CA 93101,
Tel: 805-965-6044
Fax: 805-965-6343
Website: www.ghs.com
Email: sales@ghs.com


International Sales Contact:
Green Hills Software Ltd.
Fleming Business Centre
Leigh Road
Eastleigh
Hampshire SO50 9PD
UNITED KINGDOM
Tel: +44 (0)2380 649660
Fax: +44 (0)2380 649661
Email: mktg-europe@ghs.com


Media Contacts:
Green Hills Software, Inc.
Lynn J. Robinson
Tel: 805-965-6044
Email: lynnr@ghs.com

Green Hills Software, Inc.
Barbel French
Tel: 805-965-6044
Email: bfrench@ghs.com