News & Press
EADS Deutschland GmbH Selects Green Hills Software's INTEGRITY-178B Operating System for Airbus A400M Military Avionics Computers
---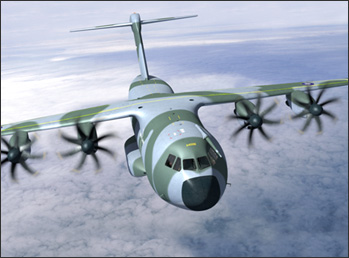 SANTA BARBARA, CA—June 14, 2005
Green Hills Software, Inc., the technology leader in operating systems and development tools for safe and secure systems, today announced that it has been selected by EADS Deutschland GmbH to supply INTEGRITY-178B, Green Hills Software's ARINC 653-1 operating system, and MULTI development tools for EADS' Mission Management Computer.

The Modular Mission Avionics Computer M2AC, now under development by EADS Defense Electronics, is a configurable, modular avionics computer intended for a variety of military airborne platforms including the new Airbus A400M military airlifter. EADS Defense Electronics, supplier of radar, avionics and electronic warfare systems, is an integrated part of the EADS Defense and Security Systems Division (DS). EADS' M2AC will be used on the Airbus A400M for a number of applications including the Mission Management Computer.

The A400M program was launched in May 2003, when 180 A400M airlifters were ordered by seven European NATO nations: 60 for Germany; 50 for France; 27 for Spain; 25 for the UK; 10 for Turkey; 7 for Belgium and one for Luxemburg. The A400M will begin flying in 2008 with first deliveries starting in 2009.

"Green Hills Software is pleased that EADS Deutschland GmbH has selected our INTEGRITY-178B operating system to meet the demanding reliability and safety requirements of Europe's new A400M military air transport," said Dan O'Dowd, founder and chief executive officer of Green Hills Software. "EADS Deutschland GmbH is a recognized world leader in the area of state-of-the-art avionics. Their avionics experience combined with INTEGRITY-178B, a proven DO-178B Level A compliant Real-Time Operating System (RTOS), will result in an unbeatable modular avionics system. Green Hills Software looks forward to a long and successful partnership with EADS Deutschland GmbH and the many future customers of their avionics product line."

Green Hills Software's in-house engineering and certification staff is solely responsible for the development and DO-178B compliance of the INTEGRITY-178B RTOS, an ARINC 653-1 operating system. INTEGRITY-178B has been developed from the ground up to meet the requirements of hard real-time flight critical systems that require RTCA/DO-178B Level A certification as well as support for multiple software safety levels. It is a proven DO-178B Level A compliant RTOS solution that has enabled many aircraft customers to meet their safety critical software requirements on time and in compliance with RTCA/DO-178B Level A.

At its core, the INTEGRITY-178B microkernel design and advanced partition scheduling technology enable it to meet the demanding performance and partitioning requirements of modern safety- and security-critical systems. The microkernel's "system awareness" allows INTEGRITY-178B to uniquely support advanced access control mechanisms that are applicable to all kernel objects (e.g. semaphores, tasks). INTEGRITY-178B is an uncompromising RTOS architecture that enables system designers to robustly partition critical aircraft functions using different partitioning options: (1) temporal protection per single virtual address space, (2) temporal protection per user defined groups of virtual address spaces, or (3) time partitioning through task CPU utilization. As a result, INTEGRITY-178B can support different system architectures including a push architecture (ARINC 653 style), a pull architecture (client-server model), event driven, or time sliced, making INTEGRITY-178B an exemplary solution for today's systems that require a partitioned hard real-time operating system.

The INTEGRITY operating system's superior reliability, security features and product maturity have made it the RTOS of choice for a growing number of military and commercial aircraft, including the B-52, B-1B, C-17, F-35 Joint Strike Fighter, F/A-22, F-16, Eurofighter Typhoon, Airbus A380 and Sikorsky S-92 commercial helicopter. Whether applications are developed in Ada, C, C++ or a combination of all three, INTEGRITY provides a reliable, secure platform for hosting airborne software.


About Green Hills Software

Founded in 1982, Green Hills Software, Inc. is the technology leader for real-time operating systems and software development tools for 32- and 64-bit embedded systems. Our royalty-free INTEGRITY® RTOS, velOSity™ microkernel, compilers, MULTI® and AdaMULTI™ Integrated Development Environments and TimeMachine™ debugger offer a complete development solution that addresses both deeply embedded and high-reliability applications. Green Hills Software is headquartered in Santa Barbara, CA, with European headquarters in the United Kingdom. Visit Green Hills Software on the web at www.ghs.com.



Green Hills Software, the Green Hills logo, MULTI, INTEGRITY, velOSity, AdaMULTI, TimeMachine, and Padded Cell are trademarks or registered trademarks of Green Hills Software, Inc. in the U.S. and/or internationally. All other trademarks are the property of their respective owners.

North American Sales Contact:
Green Hills Software, Inc.
30 West Sola Street,
Santa Barbara, CA 93101,
Tel: 805-965-6044
Fax: 805-965-6343
Website: www.ghs.com
Email: sales@ghs.com


International Sales Contact:
Green Hills Software Ltd.
Fleming Business Centre
Leigh Road
Eastleigh
Hampshire SO50 9PD
UNITED KINGDOM
Tel: +44 (0)2380 649660
Fax: +44 (0)2380 649661
Email: mktg-europe@ghs.com


Media Contacts:
Green Hills Software, Inc.
Lynn J. Robinson
Tel: 805-965-6044
Email: lynnr@ghs.com

Green Hills Software, Inc.
Barbel French
Tel: 805-965-6044
Email: bfrench@ghs.com