News & Press
Green Hills Software Introduces New Optimizations that
Reduce Memory Code Size by 30% on
Freescale's MPC5500 Processor Family


Automotive Customers Report Benchmark Results on Freescale Processors with VLE Technology
---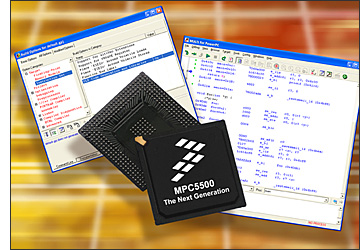 SANTA BARBARA, CA—June 13, 2005
Green Hills Software, Inc., the technology leader in embedded software development tools and real-time operating systems, today announced breakthrough technology that reduces the size of a program running in automotive control units based on Freescale's popular MPC5500 family of processors executing the PowerPC instruction set architecture. Tier-one automotive suppliers in North America and Europe are reporting test results with memory savings of 30 percent using the unique compiler and linker technology from Green Hills Software combined with Freescale's innovative variable length encoding (VLE) technology. This memory savings enables suppliers to reduce manufacturing costs or to incorporate more functionality into their systems without increasing memory costs.

The number of lines of code in engine control units is doubling every year – fueled by more features for improved driver experience and more stringent emission requirements. With VLE technology and Green Hills Optimizing Compilers, designers of embedded automotive systems can reduce the cost of materials in the control unit or add more features to their software applications within the same amount of processor memory.

"Today, our MPC500 and MPC5500 families are the leading microcontrollers in engine and transmission control units," said Ray Cornyn, operations manager for Freescale's automotive microcontroller business. "Our VLE technology makes the MPC5500 family an even more versatile solution. An optimizing compiler is a vital part of the solution, and, with their technology and experience, Green Hills Software is helping us deliver the power of VLE to our automotive customers."

VLE, an extension from Freescale to the existing 32-bit PowerPC Book E instruction set, makes use of an instruction coding technique that reduces code size, routinely by as much as 30 percent. Despite the code size reduction, software performance degradation is minimal or non-existent. In addition, VLE code can be freely mixed with ordinary PowerPC code in a program. The new encodings maintain the current PowerPC Book E application programming interface (API).

Software developers using Green Hills Software VLE products enjoy these benefits:
Proven and Available Today—Tier 1 suppliers in North America and Europe have tested the Green Hills VLE compiler and report 30 percent smaller code over non-VLE compilers.
Easy To Use—Developers do not need to make code changes at the C or C++ level to use VLE. In addition,
VLE and non-VLE code can be mixed, assuring seamless compatibility.
End-To-End and Optimized Support—The entire Green Hills Software product family has been updated – compiler, debugger, trace tools and hardware probes– giving the developer an integrated, optimized solution to create, debug and analyze a VLE application.
Green Hills Software adds VLE support to an already strong solution for powertrain developers:
C, C++ and EC++ compilers, optimized for the MPC5500 family and featuring code-reducing Automatic SDA (small data area) and CodeFactor™
MULTI integrated development environment with the advanced MULTI Debugger
Instruction set simulator for MPC5500 architecture
Green Hills Probe and Slingshot debug device, hardware debuggers for the Nexus debug interface
SuperTrace Probe and TimeMachine Debugger, trace tools for Nexus trace ports
INTEGRITY real-time operating system and

velOSity

microkernel, both royalty-free and optimized to meet the deeply embedded requirements of automotive applications


Availability

The complete Green Hills Software solution for Freescale's MPC5500 processor is available today, including MULTI, VLE-enabled C/C++ compilers, INTEGRITY RTOS,

velOSity

microkernel, SuperTrace Probe, TimeMachine Debugger, Green Hills Probe and Slingshot.


About Green Hills Software

Founded in 1982, Green Hills Software, Inc. is the technology leader for real-time operating systems and software development tools for 32- and 64-bit embedded systems. Our royalty-free INTEGRITY® RTOS,

velOSity

™ microkernel, compilers, MULTI® and AdaMULTI™ Integrated Development Environments and TimeMachine™ debugger offer a complete development solution that addresses both deeply embedded and high-reliability applications. Green Hills Software is headquartered in Santa Barbara, CA, with European headquarters in the United Kingdom. Visit Green Hills Software on the web at www.ghs.com.



North American Sales Contact:
Green Hills Software, Inc.
30 West Sola Street,
Santa Barbara, CA 93101,
Tel: 805-965-6044
Fax: 805-965-6343
Website: www.ghs.com
Email: sales@ghs.com


International Sales Contact:
Green Hills Software Ltd.
Fleming Business Centre
Leigh Road
Eastleigh
Hampshire SO50 9PD
UNITED KINGDOM
Tel: +44 (0)2380 649660
Fax: +44 (0)2380 649661
Email: mktg-europe@ghs.com


Media Contacts:
Green Hills Software, Inc.
Lynn J. Robinson
Tel: 805-965-6044
Email: lynnr@ghs.com

Green Hills Software, Inc.
Barbel French
Tel: 805-965-6044
Email: bfrench@ghs.com