News & Press
Green Hills Software's INTEGRITY RTOS &
velOSity
Microkernel Chosen by Nera for Point-to-Point Wireless Communications Systems

Operating systems and tools to support multiple, mixed processor next generation
microwave radio links


---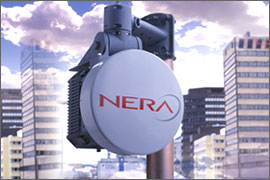 SANTA BARBARA, CA—November 15, 2004
Green Hills Software has announced that its INTEGRITY real-time operating system (RTOS),

velOSity

microkernel and MULTI integrated development environment (IDE) have been selected by Norwegian telecom product and service provider, Nera, to form the basis of the company's next generation point-to-point (PtP) microwave radio links. The INTEGRITY and

velOSity

operating systems will be used in multi-CPU systems with Intel XScale and Analog Devices Blackfin Processors, underpinning the point-to-point elements of Nera's wireless transmission and access networks.

Nera builds networks for total wireless access solutions by combining existing cable systems with point-to-point and point-to-multipoint (PMP) solutions. These networks provide the required capacity at a lower cost and shorter implementation time than alternative technologies.

George Hjipieris, senior vice president of technology and products at Nera, described the selection process: "We considered many RTOSs before making our choice. The Green Hills solution provided the best technical features and product lifecycle cost. Other key factors in our decision were the virtual memory management, which is very important for high availability systems, and the extensive range of networking and communications protocols provided."

Green Hills Software's vice president of marketing, Christopher Smith, said: "As with an increasing number of our customers, Nera is developing leading-edge products requiring support for multiple processors, often from different vendors. In standardizing on the INTEGRITY RTOS,

velOSity

microkernel and our MULTI software development tools for its future products, Nera has demonstrated Green Hills Software's ability to satisfy the diverse requirements of embedded developers today."

The fast, deterministic and royalty-free INTEGRITY RTOS is designed for applications that require true scalability, small size and real-time responsiveness. Built on the

velOSity

microkernel and tightly integrated with the MULTI integrated development environment, the INTEGRITY RTOS is well suited for applications with demanding performance and reliability requirements, such as data and telecommunications networking equipment.


About Nera

Nera is a world-leading global supplier which develops, manufactures and sells fixed wireless and satellite communication equipment and systems. Nera designs, develops, manufactures and markets point-to-point and point-to-multipoint radio link equipment, satellite terminals and gateways for mobile and fixed satellite communication. The Company is listed at the Oslo Stock Exchange.


About Green Hills Software

Founded in 1982, Green Hills Software Inc. is the technology leader for real-time operating systems and software development tools for 32- and 64-bit embedded systems. The royalty-free INTEGRITY RTOS, compilers, MULTI and AdaMULTI integrated development environments and TimeMachine Debugger offer a complete development solution that addresses both deeply embedded and high-reliability applications. Green Hills Software is headquartered in Santa Barbara, CA, with European headquarters in the United Kingdom. Visit Green Hills Software on the web at www.ghs.com.


Green Hills Software, the Green Hills logo, MULTI and INTEGRITY are registered trademarks. AdaMULTI, velOSity and TimeMachine are trademarks of Green Hills Software, Inc. All other trademarks (registered or otherwise) are the property of their respective companies. Brand or product names are registered trademarks or trademarks of their respective holders.


North American Sales Contact:
Green Hills Software, Inc.
30 West Sola Street,
Santa Barbara, CA 93101,
Tel: 805-965-6044
Fax: 805-965-6343
Website: www.ghs.com
Email: sales@ghs.com


International Sales Contact:
Green Hills Software Ltd.
Fleming Business Centre
Leigh Road
Eastleigh
Hampshire SO50 9PD
UNITED KINGDOM
Tel: +44 (0)2380 649660
Fax: +44 (0)2380 649661
Email: mktg-europe@ghs.com


Media Contacts:
Green Hills Software, Inc.
Lynn J. Robinson
(805) 965-6044
lynnr@ghs.com