News & Press
Green Hills Software Powers Next-generation of Military Unmanned Aerial Vehicles
Boeing Looks to Green Hills for Safety and Security in the X-45 Joint Unmanned Combat Air Systems
---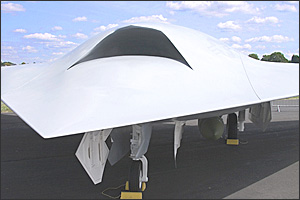 SANTA BARBARA, CA —July 19, 2004 —Green Hills Software, Inc., today announced that The Boeing Company has selected Green Hills Software's real-time operating system (RTOS) and software development tools for development and deployment of the X-45C Joint Unmanned Combat Air System (J-UCAS).
The X-45C's Vehicle Management System (VMS), currently under development by Boeing Integrated Defense Systems, will use Green Hills' INTEGRITY-178B real-time embedded operating system. The VMS embedded software application for the X-45C will be developed with Green Hills' AdaMULTI integrated development environment tools.
The J-UCAS X-45 program is a Defense Advanced Research Projects Agency/U.S. Air Force/U.S. Navy/Boeing effort to demonstrate the technical feasibility, military utility and operational value of a networked system of unmanned air vehicles for both the Air Force and the Navy. Operational missions for the services may include suppression of enemy air defenses; deep strike; electronic attack; and intelligence, surveillance and reconnaissance. The aircraft autonomously performs all attack maneuvers, bay door operations and weapon-away release sequences under human operator supervision.
About Green Hills Software
Founded in 1982, Green Hills Software Inc. is the technology leader for real-time operating systems and software development tools for 32- and 64-bit embedded systems. Our royalty-free INTEGRITY RTOS, velOSity microkernel, compilers, MULTI and AdaMULTI Integrated Development Environments and TimeMachine debugger, offer a complete development solution that addresses both deeply embedded and high-reliability applications. Green Hills Software is headquartered in Santa Barbara, CA with European headquarters in the United Kingdom.
Green Hills Software, the Green Hills logo, MULTI, INTEGRITY, velOSity, AdaMULTI and TimeMachine are trademarks or registered trademarks of Green Hills Software, Inc. in the U.S. and/or internationally. All other trademarks and products are the property of their respective owners.
North American Sales Contact:
Green Hills Software, Inc.
30 West Sola Street,
Santa Barbara, CA 93101,
Tel: 805-965-6044
Fax: 805-965-6343
Website: www.ghs.com
Email: sales@ghs.com


International Sales Contact:
Green Hills Software Ltd.
Fleming Business Centre
Leigh Road
Eastleigh
Hampshire SO50 9PD
UNITED KINGDOM
Tel: +44 (0)2380 649660
Fax: +44 (0)2380 649661
Email: mktg-europe@ghs.com


Media Contacts:
Green Hills Software, Inc.
Lynn J. Robinson
(805) 965-6044
lynnr@ghs.com
Bob Cullinan
(415) 456-6200