News & Press
Green Hills INTEGRITY RTOS chosen by PEIKER acustic for In-car Electronics Programs
Bluetooth Hands-Free Car Kit to be First Development
---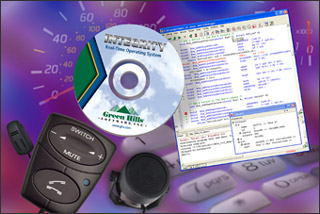 DETROIT, MI —May 25, 2004 —Green Hills Software, Inc. the market leader in royalty-free real-time operating systems (RTOS), today announced that its INTEGRITY RTOS and MULTI software development environment have been selected by leading in-vehicle communications supplier PEIKER acustic, Inc., to form the software backbone of the company's future in-car automotive electronics programs.
The first device to use this software combination along with Analog Device's Blackfin processor, will be a hands-free Bluetooth mobile telephone car kit and will include support for the latest, most up-to-date speech recognition, text-to-speech, echo cancellation and Bluetooth hands-free profile software offerings.
Bruce Clutton, CEO, PEIKER acustic, Inc., commented, "In planning our product roadmap we wanted to ensure that we chose a technology-leading combination of hardware and software that future-proofed our developments. The scalability of Green Hills' royalty-free INTEGRITY RTOS and velOSity microkernel, coupled with the lowest cost-to-deploy, meets our needs by offering leading performance with a commercial model well-suited for these high-volume consumer products."
Dan Mender, director of INTEGRITY business development for Green Hills Software, added, "Being able to provide a tightly integrated, optimized and scalable software solution for the family of Blackfin processors was key to our partner, PEIKER. This combination enables PEIKER to reduce both time and cost-to-deploy in both its current and future product developments."
INTEGRITY is a fast, deterministic RTOS designed for applications that require true scalability, small size and real-time responsiveness. Built on the velOSity microkernel, INTEGRITY is well suited for cost-sensitive, resource-constrained applications with demanding performance and reliability requirements, such as consumer devices.
The Green Hills MULTI IDE is tightly integrated with INTEGRITY and automates all aspects of software development. MULTI provides a direct graphical interface with Green Hills Optimizing C/C++ and MISRA C Compilers and supports multi-language development and debugging. MULTI contains all the tools needed to debug and deploy a major programming project including, Source Level Debugger, Project Builder, EventAnalyzer, Performance Profiler, Run-time Error Checker and Non-Intrusive Field Debugging.
About PEIKER acustic
Founded in 1946 in Friedrichsdorf, Germany, PEIKER acustic, Inc., is the preeminent supplier of high-quality, hands-free speech solutions for the automobile industry. An accredited supplier to the OEM automotive industry sector, PEIKER is compliant to DIN ISO 9001, QS 9000, VDA 6.1 and TS-16949. The company's product line includes microphones, loudspeakers, headsets, handsets, hands-free car kits and telematic solutions with a wide range of patent rights covering vehicle communication equipment. PEIKER's customers include (among others) Chrysler, Ford, Mercedes Benz, BMW, Audi, Porsche, Qualcomm, Motorola, LG InfoComm and Siemens. Subsidiaries are located in the USA, Canada, France and the UK, with additional key representatives in other countries.
About Green Hills Software
Founded in 1982, Green Hills Software Inc. is the technology leader for real-time operating systems and software development tools for 32- and 64-bit embedded systems. Our royalty-free INTEGRITY and velOSity RTOS, compilers, MULTI and AdaMULTI Integrated Development Environments and TimeMachine debugger, offer a complete development solution that addresses both deeply embedded and high-reliability applications. Green Hills Software is headquartered in Santa Barbara, CA, with European headquarters in the United Kingdom.
Green Hills Software, the Green Hills logo, MULTI, INTEGRITY, velOSity, AdaMULTI and TimeMachine are trademarks or registered trademarks of Green Hills Software, Inc. in the U.S. and/or internationally. All other trademarks and products are the property of their respective owners.
North American Sales Contact:
Green Hills Software, Inc.
30 West Sola Street,
Santa Barbara, CA 93101,
Tel: 805-965-6044
Fax: 805-965-6343
Website: www.ghs.com
Email: sales@ghs.com


International Sales Contact:
Green Hills Software Ltd.
Fleming Business Centre
Leigh Road
Eastleigh
Hampshire SO50 9PD
UNITED KINGDOM
Tel: +44 (0)2380 649660
Fax: +44 (0)2380 649661
Email: mktg-europe@ghs.com

Media Contacts:
Green Hills Software, Inc.
Lynn J. Robinson
(805) 965-6044
lynnr@ghs.com
Patterson & Associates
Barbara Stewart
(480) 488-6909
barbara@patterson.com