News & Press
Green Hills Software Receives "Best of Show" Honors for New TimeMachine Debugger
---
SANTA BARBARA, CA — September 30, 2003 — Green Hills Software, Inc., the technology leader in real-time operating systems and embedded software development tools, today announced that Venture Development Corporation (VDC) selected TimeMachine as "Best of Show" at the Embedded Systems Conference (ESC) in Boston. TimeMachine is the first debugger to provide developers with complete visibility into an application's precise behavior both forward and backward in time.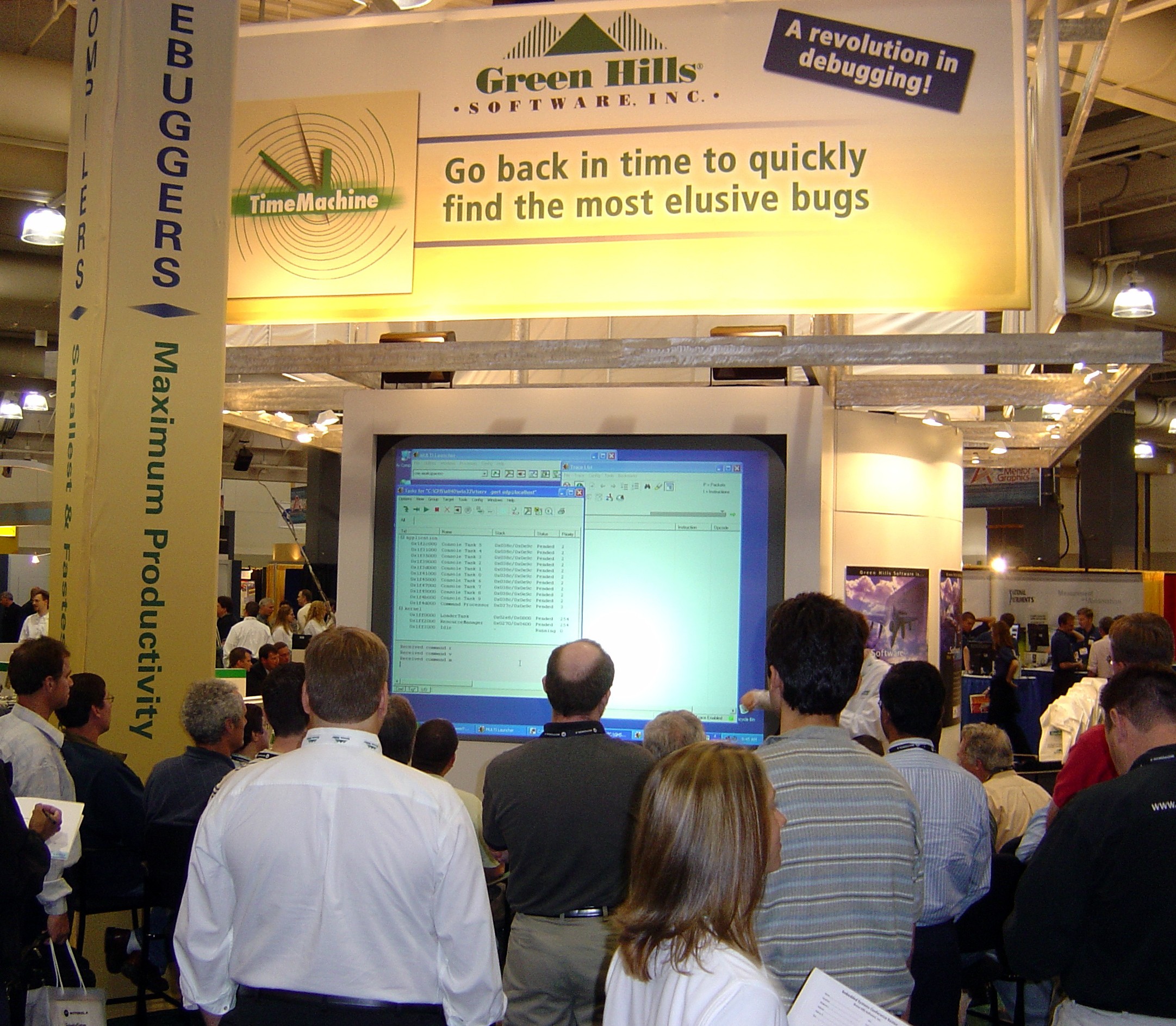 "TimeMachine was the most innovative new product demonstrated at ESC," said Chris Lanfear, research analyst, Venture Development Corporation.
"The engineering staff at Green Hills did an incredible job of developing a product that has such significant impact on an embedded developer's productivity," said David Kleidermacher. "We are pleased that VDC recognized our efforts to offer a truly ingenious product and the only debugger that can step back in time."
About TimeMachine
TimeMachine gives developers the ability to run and step an application back in time after a failure occurs, allowing easy identification of its root cause. This avoids the tedious and open-ended process of trial-and-error debugging required by previous generations of temporally-challenged debuggers.
TimeMachine exploits the power of the Green Hills SuperTrace probe that can collect up to a Gigabyte of trace data, more than 20 times the typical trace depth of other probes. SuperTrace works with trace ports running at speeds beyond 300 MHz, collecting trace data while the CPU executes at full speed. The TimeMachine software then analyzes the trace data to reconstruct the code execution steps that the processor followed. "Once a bug has been trapped in the SuperTrace Probe, TimeMachine makes it easy to eradicate the bug," concluded Kleidermacher.
About Green Hills Software
Founded in 1982, Green Hills Software, Inc. is the technology leader for real-time operating systems and software development tools for 32- and 64-bit embedded systems. The royalty-free INTEGRITY RTOS, compilers, MULTI and AdaMULTI Integrated Development Environments and TimeMachine product line offer a complete development solution that addresses embedded systems from the lowest cost consumer products to the most safety-critical aircraft flight systems. Green Hills Software is headquartered in Santa Barbara, CA, with European headquarters in the United Kingdom.
Green Hills Software, the Green Hills logo, MULTI and INTEGRITY are registered trademarks. SuperTrace Probe, TimeMachine and AdaMULTI are trademarks of Green Hills Software, Inc. All other trademarks (registered or otherwise) are the property of their respective companies. Brand or product names are registered trademarks or trademarks of their respective holders.
North American Sales Contact: Green Hills Software, Inc., 30 West Sola Street, Santa Barbara, CA 93101, Tel: 805-965-6044, Fax: 805-965-6343, Website: www.ghs.com, Email: sales@ghs.com.
International Sales Contact: Green Hills Software Ltd., Dolphin House, St. Peter Street, Winchester Hampshire SO23 8BW, United Kingdom, Tel: +44 (0)1962 829820, Fax: +44 (0)1962 890300, Email: mktg-europe@ghs.com
Media Contacts:
Green Hills Software, Inc.
Lynn J. Robinson
(805) 965-6044
lynnr@ghs.com
Patterson & Associates
Barbara Stewart
(480) 488-6909
barbara@patterson.com