On the road with the Smarter World Tour
Green Hills Software is on board NXP's Smarter World Tour as it makes stops in 16 European countries through 2016 as the exclusive Operating System and Security Sponsor.
In the two-level articulated exhibition truck, visitors can see 138 connected demonstrations highlighting technologies and products that are driving the Internet of Things today and connected products of tomorrow, from the world's smallest microcontrollers to the most complex networking infrastructure through the most secured NFC solutions.
Come see how Green Hills brings certified security and safety to the IoT and connected car in these demonstrations:
Securing Devices in the IoT
The Safe & Secure Connected Car
Streaming Media for Automotive Infotainment

Demos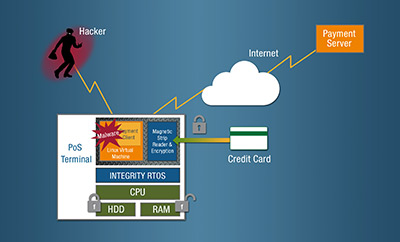 Securing Devices in the IoT
Hackers are increasingly targeting embedded devices as the rollout of the Internet of Things gains momentum. Green Hills Software demonstrates a software architecture for securing IoT devices based on the INTEGRITY real-time operating system, which has been certified as the most secure operating system in the world. A NXP i.MX 6-based point of sale (PoS) reference platform demonstrates how the proven security policies of INTEGRITY can defeat RAM scraper malware which was recently used in successful credit card breaches at several major US retailers.
The Safe & Secure Connected Car
This demonstration shows a "freedom from interference" execution of an automotive head unit and a safety-critical graphics-rich instrument cluster, both running on the same processor. The Green Hills INTEGRITY Multivisor virtualization platform runs a native OpenVG cluster and virtualized Yocto Linux that hosts the Crank Storyboard OpenGL infotainment system on a NXP i.MX 6 automotive-grade processor. This technology enables car manufacturers to seamlessly consolidate applications into the connected car while meeting demanding market-specific requirements for security, safety, and real-time performance.
Streaming Media for Automotive Infotainment
In this demo, the INTEGRITY RTOS efficiently drives multiple tablets and phones with synchronized wireless audio and video, demonstrating in-cabin streaming entertainment options for passengers. The powerful Cinemo Media Engine™ is integrated and optimized for the INTEGRITY RTOS, running on the NXP i.MX 6 automotive-grade processor.

Schedule
The Smarter World EMEA Tour schedule is updated regularly. You must register in advance to attend a specific location.
To be informed when the Smarter World EMEA Tour schedule is updated, or request it to stop at your work site, click here to submit a request

More
EMEA Tour Request