Third Party Partners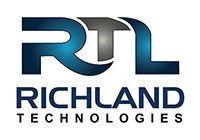 Richland Technologies LLC (RTL) is a leading provider of safety-critical and high integrity software, hardware development and certification for the civil and military avionics industry. RTL's products and services are quality assured using AS9100C and ISO9001:2008 accredited processes. Richland Technologies is headquartered in Lawrenceville, Georgia with offices in Toronto, Canada and is supported by a worldwide network of partners and associates.
Product Type
VIPUR-1 (Versatile Integrated Processing Unit Rev-1)
RTGL (Richland Technologies Graphics Libraries) Certifiable GPU drivers
RTGL SoftPipe
Product Descriptions

VIPUR-1
Richland Technologies' VIPUR-1 based upon ORCCA provides the perfect combination of power and flexibility required to implement new commercial and military avionics systems. The flexible, high performance, and safety certifiable computing platform can be used for diverse avionics functions and is easily reconfigured to support a variety of popular form factors, sizes and connector types. With certification up to RTCA-DO-178B and DO-254 Level A, this platform can be used in the most critical flight applications.
Certifiable GPU drivers
Richland Technologies provides high performance graphics drivers for embedded computing platforms that employ hardware accelerated devices. These drivers are principally used in commercial and military aircraft, but are equally applicable to automotive navigation and infotainment systems, dashboard instrument clusters, industrial controls, and medical devices to drive 3D graphics and to enhance the quality of 2D graphics output.
SoftPipe
Richland Technologies' SoftPipe rasterizer is a software library tailored for general purpose and safety-critical environments. This efficient, small footprint software library performs software-based graphics rendering in embedded systems that employ both general-purpose and safety critical systems using a single, consistent API. Certifiable to DO-178C Level A, the rasterizer is designed to be deployed in aerospace and defense systems and other environments where performance and reliability are critical.
Processors Supported
AMD GPUs
ARM
Power Architecture
INTEL
Supported Green Hills Products
Headquarters
Richland Technologies LLC
1755 North Brown Road – Suite 150
Lawrenceville, Georgia 30043 USA
http://richlandtechnologies.com/
Sales Contact

Robert Atkinson
Sales & Marketing Executive
ph: +1 (514) 576-3577
Email: robert.atkinson@rtlaero.com