News & Press
Green Hills Software Announces INTEGRITY and INTEGRITY Multivisor Virtualization Solutions for Renesas' Third-Generation R-Car H3 SoC
Provides Safest and Most Secure Platform for all Major Automotive Applications Required for the Autonomous Vehicle Age
---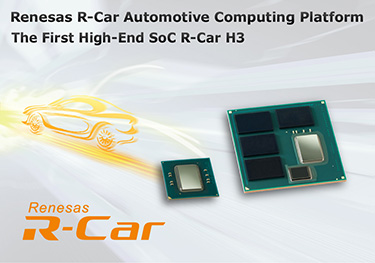 BOSTON, MA — April 13, 2016 — Embedded Systems Conference, Booth #870 — Green Hills Software, the largest independent software vendor for the Internet of Things (IoT), today announced the immediate availability of its safe and secure INTEGRITY® real-time operating system (RTOS) and INTEGRITY Multivisor™ virtualization solutions for Renesas' R-Car H3 system-on-chip (SoC), the first member of the third-generation R-Car automotive computing platform.
Green Hills Software delivered the embedded industry's first 64-bit secure virtualization solution last year, a platform that was partially developed with the specific capabilities of the R-Car H3 in mind. This Green Hills platform not only meets all of the ISO 26262 functional safety requirements of today's automotive applications, but is versatile enough to be adapted to a wide range of applications from fully reconfigurable digital instrument clusters, to highly integrated automotive cockpits, to highly specialized ADAS systems (Advanced Driver Assistance Systems) providing the compute and sensor fusion capabilities for the upcoming autonomous vehicle age.
The INTEGRITY RTOS and Multivisor platform includes support for:
Fully accelerated 3D graphics utilizing the PowerVR™ GX6650 3D graphics processing unit (GPU). Includes the capability to fully share the GPU between the host RTOS and multiple guest operating systems, all while ensuring the RTOS graphics applications have guaranteed priority for meeting functional safety requirements.
Complete AUTOSAR-compliant application framework, allowing existing AUTOSAR software components to be seamlessly and tightly integrated, providing for maximum software re-use.
Complete support for the various application processors on the R-Car H3 with a variety of configurations.
Highly configurable virtualization platform allowing users to seamlessly configure peripheral routing and utilization between host RTOS and any guest operating system, including the ability to safely share peripherals between critical tasks and general-purpose tasks or guest operating systems.
Secure virtualization and separation technology allows ISO 26262-certified application code to coexist with general-purpose code or guest operating systems without any interference. The platform can monitor the health of all applications and guests in real-time.
Support for functional safety elements of the Renesas R-Car H3 SoC.
Maximum virtualization performance utilizing hardware acceleration built into the Renesas R-Car architecture.
"At Green Hills Software we are leveraging our experience deploying our Multivisor solution into automotive projects to build the safest and most secure platform suitable for all major automotive applications," said Tim Reed, vice president of Advanced Products, Green Hills Software. "The Renesas R-Car platform uniquely captures some of the key requirements car makers are demanding from their supply chains. It provides the right mix of performance and compute power as well as attention to detail when it comes to meeting functional safety demands."
"As the market leader for worldwide in-vehicle infotainment SoCs, we are pleased to see Green Hills Software's own continued leadership in the functional safety and security markets come together with our technology to deliver a complete automotive computing and infotainment platform for meeting car makers' high standards of security and functional safety," said Amrit Vivekanand, vice president of the Automotive Business Unit, Renesas Electronics America.
Availability
The INTEGRITY RTOS and Multivisor platforms for the Renesas R-Car H3 are available today.
About Green Hills Software
Founded in 1982, Green Hills Software is the largest independent vendor of embedded development solutions. In 2008, the Green Hills INTEGRITY-178 RTOS was the first and only operating system to be certified by NIAP (National Information Assurance Partnership comprised of NSA & NIST) to EAL 6+, High Robustness, the highest level of security ever achieved for any software product. Our open architecture integrated development solutions address deeply embedded, absolute security and high-reliability applications for the military/avionics, medical, industrial, automotive, networking, consumer and other markets that demand industry-certified solutions. Green Hills Software is headquartered in Santa Barbara, CA, with European headquarters in the United Kingdom. Visit Green Hills Software at www.ghs.com.
North American Sales Contact:
Green Hills Software
30 West Sola Street,
Santa Barbara, CA 93101
Tel: 805-965-6044
Fax: 805-965-6343
Website: www.ghs.com
Email: info@ghs.com
International Sales Contact:
Green Hills Software Ltd
Fleming Business Centre
Leigh Road
Eastleigh SO50 9PD
UNITED KINGDOM
Tel: +44 (0)2380 649660
Fax: +44 (0)2380 649661
Email: mktg-europe@ghs.com

Media Contact:
Green Hills Software
Barbel French
Tel: 805-965-6044
Email: bfrench@ghs.com