News & Press
Green Hills Software Demonstrates Security and Safety Software Solutions
on the NXP Smarter World Tour
---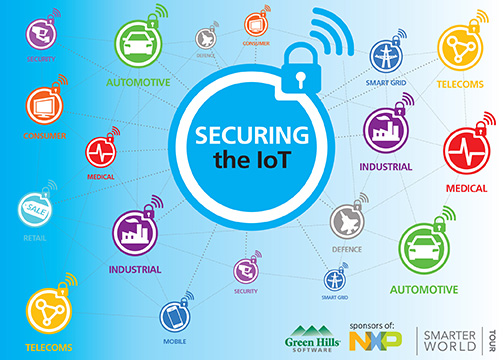 PARIS, FRANCE & SANTA BARBARA, CA — January 14, 2016 — Green Hills Software, the largest independent software vendor for the Internet of Things (IoT), will be demonstrating its industry-leading security and safety solutions with NXP Semiconductors at over 100 locations in 16 European countries throughout 2016 as the exclusive Operating System and Security Sponsor for the NXP Smarter World Tour. In the 2-level articulated exhibition truck, visitors can see three live product demonstrations highlighting Green Hills Software's certified safety and security technology applied to IoT devices and the software-defined Connected Car.
Securing Devices in the IoT
The first Green Hills demo kiosk highlights the INTEGRITY® Multivisor™ virtualization platform that secures Linux and Android-based IoT devices from malware recently used in successful credit card breaches. Based on the trusted INTEGRITY real-time operating system, INTEGRITY Multivisor is a flexible software architecture that protects safety- and security-critical functions in systems running consumer operating systems like Linux, Android or Windows. The platform is an NXP i.MX 6-based point-of-sale (PoS) reference system.
The Safe & Secure Connected Car
The second demonstration shows the "freedom from interference" execution of an automotive head unit and a safety-critical graphics-rich instrument cluster, both running on the same processor. This safe and secure consolidation of mixed criticality services enables car manufacturers to seamlessly consolidate applications into the connected car while meeting demanding market-specific requirements for security, safety and real-time performance. The INTEGRITY Multivisor virtualization platform runs a native OpenVG cluster and virtualized Yocto Linux hosting the Crank Storyboard OpenGL Infotainment system on the NXP i.MX 6 automotive-grade processor.
The third demonstration is the INTEGRITY RTOS efficiently driving multiple tablets and phones with synchronized wireless audio and video, demonstrating in-cabin streaming entertainment options for passengers. The powerful Cinemo Media Engine™ is integrated and optimized for the INTEGRITY RTOS on the NXP i.MX 6.
Steve Wainwright, vice president sales and marketing EMEA, NXP, commented: "Green Hills Software has an excellent pedigree of providing software that is proven to the highest levels of security and it is now delivering this technology to help secure the Internet of Things. We are very pleased that Green Hills is participating in the NXP Smarter World Tour as the exclusive operating system and security sponsor."
Jeremy Flann, vice president EMEA sales, Green Hills Software, added: "The predicted scale of the IoT means that there will be many more edge devices vulnerable to attack. It is now more important than ever to guard against these threats at the time of development and we are looking forward to demonstrating a series of practical solutions for the many engineers who attend the Tour."
Further information about Green Hills Software's participation in the Smarter World Tour can be found at www.ghs.com/emeatour.
About Green Hills Software
Founded in 1982, Green Hills Software is the largest independent software vendor for the Internet of Things. In 2008, the Green Hills INTEGRITY–178 RTOS was the first and only operating system to be certified by NIAP (National Information Assurance Partnership comprised of NSA & NIST) to EAL 6+, High Robustness, the highest level of security ever achieved for any software product. Our open architecture integrated development solutions address deeply embedded, absolute security and high–reliability applications for the military/avionics, medical, industrial, automotive, networking, consumer and other markets that demand industry–certified solutions. Green Hills Software is headquartered in Santa Barbara, CA, with European headquarters in the United Kingdom. Visit Green Hills Software at www.ghs.com.
North American Sales Contact:
Green Hills Software
30 West Sola Street,
Santa Barbara, CA 93101
Tel: 805-965-6044
Fax: 805-965-6343
Website: www.ghs.com
Email: info@ghs.com
International Sales Contact:
Green Hills Software Ltd
Fleming Business Centre
Leigh Road
Eastleigh SO50 9PD
UNITED KINGDOM
Tel: +44 (0)2380 649660
Fax: +44 (0)2380 649661
Email: mktg-europe@ghs.com
Media Contact:
Green Hills Software
Christopher Smith
Tel: +44 (0)2380 649660
Email: chriss@ghs.com