News & Press
Green Hills Software INTEGRITY-178 tuMP Multicore Operating System Selected by Georgia Tech Research Institute and Air National Guard for C-130 Software Modernization Program
Proven Leader in DO-178B Level A and EAL 6+ Operating Systems Selected for Intel Core i7 RTOS Requirement on Critical Airborne Computer Requiring Windows and Linux Virtualization
---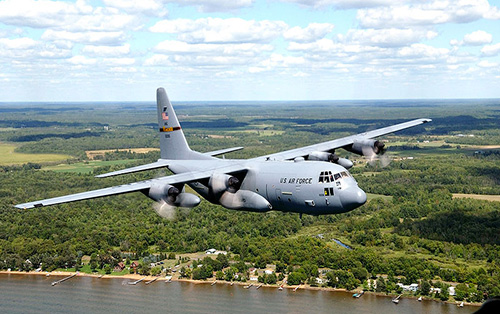 SANTA BARBARA, CA — October 20, 2015 — Green Hills Software, the worldwide leader in high assurance operating systems, announced Georgia Tech Research Institute's selection of the INTEGRITY®-178 tuMP™ multicore operating system for the US Air National Guard's Tactical Airlift Mission Software Suite (TAMSS) software modernization program. This new software environment will be based on Green Hills Software's INTEGRITY-178 Time-Variant Unified Multi Processing (tuMP) operating system for Intel architectures. Using the INTEGRITY-178 tuMP operating system, the Georgia Tech Research Institute will transform this existing airborne C-130 computer system, based on an Intel i7 multicore processor, from a single-use model to a multi-use platform capable of hosting diverse applications and provide for future growth.
"The INTEGRITY-178 tuMP operating system was selected for the TAMSS software infrastructure due to its multicore service history and its ability to support an architecture that is flexible, open, adaptable, robust, predictable, and capable of meeting probable future security requirements," said Brian Rianhard, Associate Division Chief at Georgia Tech Research Institute. "The TAMSS software modernization requires the ability to host a diversity of new and legacy applications written in multiple languages, provide open interfaces, meet hard real-time deadlines, enforce time and space separation, fully exploit a multicore architecture, and have the ability to reduce cost and schedule risk by hosting guest operating systems and their legacy applications in virtual memory. Using INTEGRITY-178 tuMP we are able to integrate applications that require Windows and Linux into user-defined affinity groups and partitions, thus enabling seamless reuse of Ada/C/C++ and Java applications, while simultaneously having the ability to host critical applications using its native RTOS interfaces into other affinity groups and partitions."
"Green Hills Software is extremely honored that Georgia Tech Research Institute has selected our INTEGRITY-178 tuMP RTOS for its software modernization of the Intel-based C-130 TAMSS computer system," said Dan O'Dowd, founder and chief executive officer of Green Hills Software. "The C-130 is an amazing and proven workhorse aircraft with unmatched mission capabilities. Our safe and secure INTEGRITY-178 is currently being used on many airborne C-130 systems and we are very proud to support GTRI and the US Air National Guard's TAMSS system with our INTEGRITY-178 tuMP operating system with its advanced GuestOS virtualization capabilities."
The INTEGRITY-178 tuMP multicore operating system is available for Intel, Freescale QorIQ and ARM architectures. INTEGRITY-178 tuMP for Intel architectures also offers support for Windows and Linux virtualization. INTEGRITY-178 tuMP has been shipping to Green Hills aerospace and defense customers since 2011 and builds upon a proven fourteen-year service history and certification pedigree by incorporating multicore operating system capabilities, including support for AMP and SMP. INTEGRITY-178 tuMP defines groupings (called affinity groups) of how cores will be utilized by one or more applications, with the grouping of cores and applications being permitted to vary over time. Sets of affinity groups are then scheduled independently of other sets of affinity groups, permitting time-lines that closely correspond to application requirements, yet also permitting other sets of affinity groups to be developed that can make use of time windows where cores are not being utilized. Support for multiple simultaneous schedules further extends the tuMP scheduling capabilities, permitting tailoring of available applications and processor time resources based on the vehicles' operational needs, such as flight or combat phase.
INTEGRITY-178 tuMP extends partitioning support beyond single-core processors, ensuring that this highly flexible capability can continue to be effectively used to host multiple applications while preserving resources for application growth without concern about future availability of new single-core processor designs. INTEGRITY-178 tuMP offers complete support for the ARINC-653 Part 1 standard as well as Part 2 optional features such as Sampling Port Data Structures, Sampling Port Extensions, Memory Blocks, Multiple Module Schedules and File System. INTEGRITY-178 tuMP also aligns with the FACE™ 2.1 Safety Base and Security profiles.
For additional inquires and ordering information, contact 1-800-789-9695 or internationally at +1-727-781-4909, or by email: HighAssuranceRTOS@ghs.com.
About Green Hills Software
Founded in 1982, Green Hills Software is the largest independent vendor of embedded development solutions. In 2008, the Green Hills INTEGRITY-178 RTOS was the first and only operating system to be certified by NIAP (National Information Assurance Partnership comprised of NSA & NIST) to EAL 6+, High Robustness, the highest level of security ever achieved for any software product. Our open architecture integrated development solutions address deeply embedded, absolute security and high-reliability applications for the military/avionics, medical, industrial, automotive, networking, consumer and other markets that demand industry-certified solutions. Green Hills Software is headquartered in Santa Barbara, CA, with European headquarters in the United Kingdom. Visit Green Hills Software at www.ghs.com.
North American Sales Contact:
Green Hills Software
30 West Sola Street,
Santa Barbara, CA 93101
Tel: 805-965-6044
Fax: 805-965-6343
Website: www.ghs.com
Email: info@ghs.com
Media Contacts:
Green Hills Software
Barbel French
Tel: 805-965-6044
Email: bfrench@ghs.com
International Sales Contact:
Green Hills Software Ltd
Fleming Business Centre
Leigh Road, Eastleigh
Hampshire SO50 9PD
UNITED KINGDOM
Tel: +44 (0)2380 649660
Fax: +44 (0)2380 649661
Email: mktg-europe@ghs.com