News & Press
Green Hills Software to Present and Exhibit at Freescale Technology Forum 2014 in Dallas, TX
---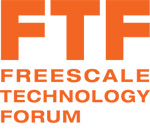 SANTA BARBARA, CA —March 31, 2014 — Green Hills Software, the largest independent software vendor for the Internet of Things (IoT), will exhibit and deliver technology presentations at the Freescale Technology Forum, Gaylord Texan Resort & Convention Center, Dallas, TX, April 8 - 11. Green Hills Software will also demonstrate its latest embedded software solutions. For more information on Green Hills Software's presence at FTF Dallas, visit http://www.ghs.com/events/FTFAmericas_2014.html.
Green Hills Software speaker presentations and panel participations include:
On the show floor, Green Hills will offer the following demonstrations on four different workstations:
Green Hills Support for ARMv8 64-bit
The new ARMv8-A architecture from ARM Ltd. made its first splash in the iPhone 5S and is now on many processor roadmaps for automotive, networking, data center and IoT. Freescale's own QorIQ and i.MX families will soon utilize it in two processor families. See the industry's first supplier of RTOS and development tools for the ARMv8.
Safety and Security for the Internet of Things
Connected everyday devices are ubiquitous. Making those devices secure is paramount. See how Green Hills Software helps developers make "Things" run securely and safely. This connectivity demonstration shows both the INTEGRITY® and µ-velOSity™ RTOSes running on multiple boards featuring Freescale Kinetis, QorIQ and C29x Crypto processors.
OpenGL Graphics For i.MX6 Devices
Next-generation devices need modern graphics capabilities. See pre-integrated OpenGL ES 2.0-enabled graphical solutions from partners including Crank Software Storyboard, DiSTI GL Studio, Elektrobit EB Guide, and Rightware Kanzi for the INTEGRITY RTOS on a Freescale i.MX 6 processor.
Multicore Automotive Solutions for Cluster & Powertrain
Elektrobit EB Guide graphic target framework leverages OpenVG integrated graphics and the INTEGRITY RTOS on Freescale's Vybrid processor delivering high-performance digital instrument clusters. Also, see the MULTI® multicore debugger, TimeMachine™ trace debugging and high-performance record-setting Green Hills C/C++ compilers on a Qorivva MPC57xx microcontroller for engine control and chassis applications.
About Green Hills Software
Founded in 1982, Green Hills Software is the largest independent software vendor for the Internet of Things. In 2008, the Green Hills INTEGRITY-178 RTOS was the first and only operating system to be certified by NIAP (National Information Assurance Partnership comprised of NSA & NIST) to EAL 6+, High Robustness, the highest level of security ever achieved for any software product. Our open architecture integrated development solutions address deeply embedded, absolute security and high-reliability applications for the military/avionics, medical, industrial, automotive, networking, consumer and other markets that demand industry-certified solutions. Green Hills Software is headquartered in Santa Barbara, CA, with European headquarters in the United Kingdom. Visit Green Hills Software at www.ghs.com.
Green Hills, the Green Hills logo, MULTI, INTEGRITY, TimeMachine and µ-velOSity are trademarks or registered trademarks of Green Hills Software in the U.S. and/or internationally. All other trademarks are the property of their respective owners.
North American Sales Contact:
Green Hills Software
30 West Sola Street,
Santa Barbara, CA 93101
Tel: 805-965-6044
Fax: 805-965-6343
Website: www.ghs.com
Email: info@ghs.com
International Sales Contact:
Green Hills Software Ltd
Fleming Business Centre
Leigh Road
Eastleigh SO50 9PD
UNITED KINGDOM
Tel: +44 (0)2380 649660
Fax: +44 (0)2380 649661
Email: mktg-europe@ghs.com
Media Contacts:
Green Hills Software
Barbel French
Tel: 805-965-6044
Email: bfrench@ghs.com