News & Press
Green Hills Software Announces INTEGRITY RTOS and MULTI IDE Support for Freescale's QorIQ T4240 64-bit Multicore Processor
---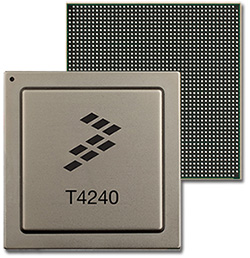 SANTA BARBARA and SAN JOSE, CA — April 23, 2013 — DESIGN West, Booth 1320 — Green Hills Software, the largest independent vendor of embedded software solutions, today announced the availability of its industry-leading INTEGRITY® RTOS and comprehensive software development and run-time solutions for the Freescale® QorIQ® T4240 multicore processor. Green Hills Software supported solutions include the INTEGRITY real-time operating system (RTOS) with SMP configuration; the mature INTEGRITY Multivisor™ virtualization technology, its award-winning MULTI® integrated development environment (IDE) and optimizing C/C++ compilers; their industry-leading trace-based debugger, TimeMachine™ tool suite; a full suite of middleware including IPv4/v6 TCP/IP network stacks, high reliability file systems and conformant POSIX; and both the Green Hills JTAG Probe and SuperTrace probe™.
Freescale's 12-core, 24-thread QorIQ T4240 processor delivers a compelling combination of hardware acceleration, fabric-based interconnect technology, high speed I/O, hardware-assisted virtualization and next-generation 64-bit Power Architecture cores for applications in the data center, wireless infrastructure, enterprise, service provider, and industrial segments.
"Freescale is pleased to see Green Hills INTEGRITY RTOS and MULTI tools support for our flagship QorIQ T4240 processor, the industry's highest performance embedded SoC," said Raja Tabet, vice president of software and solutions for Freescale's Digital Networking business. "This support enables our customers to develop high-performance networking and telecom platforms with fast time-to-market and optimal reliability and availability in mind."
Green Hills Software's flagship run-time offering is the INTEGRITY RTOS. The success of the INTEGRITY RTOS is due to its advanced separation kernel architecture, incorporating memory protection, guaranteed resource availability; secure remote management and deterministic real-time response.
"Combining the Green Hills advance RTOS and integrated development environment, that is optimized for use with the Freescale T4240, empowers customers to develop high network and content processing performance at extremely low cost of ownership," commented Dan Mender, vice president of business development, Green Hills Software. "And with our advanced visual debugging tools, customers can easily and rapidly achieve peak performance optimizations while finding and addressing the system's most difficult software bugs."
Availability
Green Hills Software's solutions for Freescale's QorIQ T4240 product are available in 2Q 2013.
About Green Hills Software
Founded in 1982, Green Hills Software is the largest independent vendor of embedded development solutions. In 2008, the Green Hills INTEGRITY-178B RTOS was the first and only operating system to be certified by NIAP (National Information Assurance Partnership comprised of NSA & NIST) to EAL 6+, High Robustness, the highest level of security ever achieved for any software product. Our open architecture integrated development solutions address deeply embedded, absolute security and high-reliability applications for the military/avionics, medical, industrial, automotive, networking, consumer and other markets that demand industry-certified solutions. Green Hills Software is headquartered in Santa Barbara, CA, with European headquarters in the United Kingdom. Visit Green Hills Software at www.ghs.com.
North American Sales Contact:
Green Hills Software
30 West Sola Street,
Santa Barbara, CA 93101
Tel: 805-965-6044
Fax: 805-965-6343
Website: www.ghs.com
Email: info@ghs.com

Media Contact:
Green Hills Software
Barbel French
Tel: 805-965-6044
Email: bfrench@ghs.com
International Sales Contact:
Green Hills Software Ltd
Fleming Business Centre
Leigh Road
Eastleigh
Hampshire SO50 9PD
UNITED KINGDOM
Tel: +44 (0)2380 649660
Fax: +44 (0)2380 649661
Email: mktg-europe@ghs.com