News & Press
Green Hills Software Announces Multicore TimeMachine Trace Tools for MIPS and Renesas Microcontrollers
Extends Award-Winning Tool Suite with Multicore Debug and Analysis Capabilities
---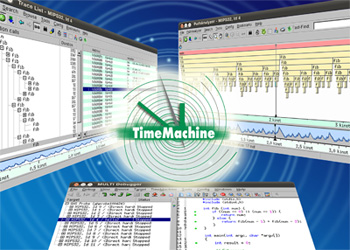 SANTA BARBARA, CA — April 16, 2013 — Green Hills Software, the largest independent vendor of embedded software solutions, today announced broad multicore enhancements to their industry-leading trace-based debugger, TimeMachine™ tool suite.
Multicore TimeMachine support brings unprecedented visibility into the complex interactions of software running on multicore MIPS and Renesas RH850 and V850 processors, resulting in faster time-to-market and higher reliability for multicore-based firmware products. For SoC designers, multicore TimeMachine is a powerful tool to assist with pre-tape-out chip verification, reducing risk, time-to-market, and time to accelerate silicon sales. TimeMachine advanced scripting capabilities allow for automated testing on virtual platforms.
"Imagination is delighted that our long-time partner Green Hills is making its multicore TimeMachine tools available for MIPS CPUs. Multicore and multi-threaded MIPS cores provide high-performance, efficient processing across a wide range of embedded and consumer products. With multicore TimeMachine, developers creating software for these processors have a new level of visibility and control, with the ability to debug, optimize, and test code in powerful new ways," said Tony King-Smith, EVP of marketing, Imagination Technologies, which recently acquired MIPS Technologies, Inc., and with it the industry-standard MIPS microprocessor architecture.
For software developers, multicore TimeMachine enables developers to visualize, replay, and debug their software's execution backward in time across multiple cores within an SoC. The TimeMachine suite enables firmware engineers to quickly find bugs and inefficiencies in multicore systems. As part of the Green Hills Software MULTI® IDE (integrated development environment), this capability enables multicore bugs to be easily and quickly eliminated. Without the trace-based visibility of TimeMachine, the complex interactions between multiple heterogeneous cores are difficult to see, resulting in long turn-around times on software defects.
The TimeMachine debugger allows the user to synchronously step forward and backward on all cores, to set software and hardware breakpoints and to run forwards or backwards, so all cores synchronously stop upon hitting the breakpoint. As a result the user can see what all cores are doing before and upon hitting those breakpoints. Developers can optimize their program through profiling information derived non-intrusively from gigabytes of trace data. Beyond debugging, confidence for completeness in testing can be obtained from code coverage data also derived non-intrusively from the trace data.
"For the past decade, TimeMachine has been the premier tool in the embedded industry for tracking down the most difficult bugs - those intermittent and hard to reproduce problems that so often cause software to be late or buggy. Those difficult bugs have only become more complicated over the years as software is running across multiple cores on extremely complex devices. Multicore TimeMachine allows the execution of all cores on the SoC to be replayed repeatedly, and for the first time giving developers the control and visibility required to efficiently solve the most difficult problems," commented Tim Reed, vice president of Advanced Products, Green Hills Software.
About TimeMachine
The TimeMachine debugger provides developers the ability to run and step an application back in time after a failure occurs, allowing easy identification of its root cause. This avoids the tedious and open-ended process of trial-and-error debugging required by previous generations of debuggers. The TimeMachine suite also includes a number of visualization tools, such as the PathAnalyzer, which bring to light complex system execution flow, making it easier to locate and mitigate performance bottlenecks.
About SuperTrace Probe
The SuperTrace™ probe supports trace ports running at speeds beyond 300 MHz, collecting enormous amounts of trace data while the CPU executes at full speed. TimeMachine then analyzes the trace data to reconstruct the code execution steps that the processor followed. The SuperTrace probe provides both a means of controlling the processor's trace logic and a channel for capturing trace data while the processor is running. In addition to the trace features, the SuperTrace probe also includes all the run-control features of the Green Hills probe.
Availability
The SuperTrace Probe and multicore enhancements are available today for ARM, MIPS, PowerPC, and Renesas processors.
About Green Hills Software
Founded in 1982, Green Hills Software is the largest independent vendor of embedded development solutions. In 2008, the Green Hills INTEGRITY-178B RTOS was the first and only operating system to be certified by NIAP (National Information Assurance Partnership comprised of NSA & NIST) to EAL 6+, High Robustness, the highest level of security ever achieved for any software product. Our open architecture integrated development solutions address deeply embedded, absolute security and high-reliability applications for the military/avionics, medical, industrial, automotive, networking, consumer and other markets that demand industry-certified solutions. Green Hills Software is headquartered in Santa Barbara, CA, with European headquarters in the United Kingdom. Visit Green Hills Software at www.ghs.com.
North American Sales Contact:
Green Hills Software
30 West Sola Street,
Santa Barbara, CA 93101
Tel: 805-965-6044
Fax: 805-965-6343
Website: www.ghs.com
Email: info@ghs.com

Media Contact:
Green Hills Software
Barbel French
Tel: 805-965-6044
Email: bfrench@ghs.com
International Sales Contact:
Green Hills Software Ltd
Fleming Business Centre
Leigh Road
Eastleigh
Hampshire SO50 9PD
UNITED KINGDOM
Tel: +44 (0)2380 649660
Fax: +44 (0)2380 649661
Email: mktg-europe@ghs.com