News & Press
Green Hills Software Positions for Expansion with
Appointment of New CFO


---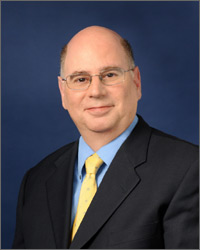 SANTA BARBARA, CA, March 28, 2005—Green Hills Software, Inc., the technology leader in embedded software development tools and real-time operating systems, today announced that it has appointed Jeffrey Hazarian as chief financial officer. As CFO, Hazarian will be responsible for finance, accounting, tax, and administrative operations.

"Jeff's extensive experience in corporate and international accounting and financial and management reporting will be a great asset as Green Hills Software enters the next phase of expansion," said Dan O'Dowd, founder and chief executive officer of Green Hills Software.

Before assuming his position at Green Hills Software, Hazarian spent 19 years at Tenera, Inc., a publicly held software and services provider, where he served on the Board of Directors and held various executive positions, including Executive Vice President, Chief Financial Officer and Corporate Secretary. Hazarian is a member of the California Bar and holds a law degree from the University of California Hastings College of the Law and a BS degree in Business Administration from California State University at Hayward.


About Green Hills Software

Founded in 1982, Green Hills Software, Inc. is the technology leader for real-time operating systems and software development tools for 32- and 64-bit embedded systems. Our royalty-free INTEGRITY® RTOS, velOSity™ microkernel, compilers, MULTI® and AdaMULTI™ Integrated Development Environments and TimeMachine™ debugger offer a complete development solution that addresses both deeply embedded and high-reliability applications. Green Hills Software is headquartered in Santa Barbara, CA, with European headquarters in the United Kingdom. Visit Green Hills Software on the web at www.ghs.com.


Green Hills Software, the Green Hills logo, MULTI, INTEGRITY, velOSity, AdaMULTI and TimeMachine are trademarks or registered trademarks of Green Hills Software, Inc. in the U.S. and/or internationally. All other trademarks are the property of their respective owners.

North American Sales Contact:
Green Hills Software, Inc.
30 West Sola Street,
Santa Barbara, CA 93101,
Tel: 805-965-6044
Fax: 805-965-6343
Website: www.ghs.com
Email: sales@ghs.com


International Sales Contact:
Green Hills Software Ltd.
Fleming Business Centre
Leigh Road
Eastleigh
Hampshire SO50 9PD
UNITED KINGDOM
Tel: +44 (0)2380 649660
Fax: +44 (0)2380 649661
Email: mktg-europe@ghs.com


Media Contacts:
Green Hills Software, Inc.
Lynn J. Robinson
Tel: 805-965-6044
Email: lynnr@ghs.com

Green Hills Software, Inc.
Barbel French
Tel: 805-965-6044
Email: bfrench@ghs.com