News & Press
Green Hills Tools Chosen by STMicroelectronics for
STR7X Family

MULTI Development Environment and

velOSity

Microkernel RTOS Leverage
32bit Capabilities of MCUs in Industrial Applications

---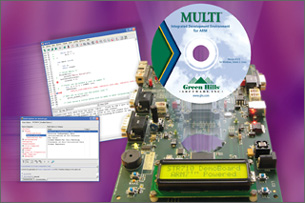 NUREMBERG, GERMANY—February 22, 2005
Green Hills Software, Inc., the technology leader
in embedded software development tools and royalty-free real-time operating systems, today announced that it has been chosen as a preferred software development tools partner for STMicroelectronics' (STM) STR7xx family of 32-bit ARM7 based microcontrollers. Green Hills Software's MULTI toolchain and velOSity microkernel have been validated on the STR710-EVAL evaluation board and provide powerful support for engineers moving into the 32-bit space for the first time.
The STR7xx family builds on STM's success in the industrial and distribution markets and leverages the rich library of peripherals, such as USB and CAN interfaces, that have been developed for and proven in the company's popular 8-bit MCU families.
According to Christopher Smith, Green Hills Software vice president of marketing, "STM's STR7xx family delivers significant performance enhancements to developers of industrial and automotive applications. The MULTI toolchain and velOSity microkernel ensure this performance can be exploited in the most efficient manner possible by simplifying the complexity inherent in moving from 8 to 32-bit coding."
Semir Haddad, STMicroelectronics Marketing Manager of ARM microcontrollers, said, "Green Hills Software's proven software development tools are well suited to helping developers make the transition from 8-bit to 32-bit systems. It will also enable them to obtain the maximum benefit from the adoption of the STR7x and its powerful capabilities."
Green Hills Software's MULTI environment provides a complete, integrated development solution for embedded applications using C, C++ and Embedded C++. The MULTI development environment runs on Windows, Linux, or UNIX hosts, and supports remote debugging to a variety of target environments. The MULTI development environment provides a direct graphical interface with all Green Hills compilers, and supports multi-language development and debugging. The MULTI development environment contains all of the tools needed to debug and deploy a major programming project including, source-level debugger, project builder, event analyzer, performance profiler, run-time error checker, and non-intrusive field debugging. The velOSity microkernel enables exceptionally fast application development out of the box and is tightly integrated with the MULTI IDE and Green Hills Optimizing C and C++ compilers. This combination provides a complete turnkey solution that allows developers to be instantly productive.
Green Hills MULTI and velOSity microkernel for STMicroelectronics STR71x devices are available now.


About Green Hills Software

Founded in 1982, Green Hills Software, Inc. is the technology leader for real-time operating systems and software development tools for 32- and 64-bit embedded systems. Our royalty-free INTEGRITY® RTOS, velOSity™ microkernel, compilers, MULTI® and AdaMULTI™ Integrated Development Environments and TimeMachine™ debugger offer a complete development solution that addresses both deeply embedded and high-reliability applications. Green Hills Software is headquartered in Santa Barbara, CA, with European headquarters in the United Kingdom. Visit Green Hills Software on the web at www.ghs.com.


Green Hills Software, the Green Hills logo, MULTI, INTEGRITY, velOSity, AdaMULTI, and TimeMachine, are trademarks or registered trademarks of Green Hills Software, Inc. in the U.S. and/or internationally. All other trademarks are the property of their respective owners.



North American Sales Contact:
Green Hills Software, Inc.
30 West Sola Street,
Santa Barbara, CA 93101,
Tel: 805-965-6044
Fax: 805-965-6343
Website: www.ghs.com
Email: sales@ghs.com


International Sales Contact:
Green Hills Software Ltd.
Fleming Business Centre
Leigh Road
Eastleigh
Hampshire SO50 9PD
UNITED KINGDOM
Tel: +44 (0)2380 649660
Fax: +44 (0)2380 649661
Email: mktg-europe@ghs.com


Media Contacts:
Green Hills Software, Inc.
Lynn J. Robinson
Tel: 805-965-6044
Email: lynnr@ghs.com

Green Hills Software, Inc.
Barbel French
Tel: 805-965-6044
Email: bfrench@ghs.com